Pest Control For Blue Bell, PA
Are you tired of dealing with insects and rodents around your home or business? If so, Moyer Pest Control can help. We are a longtime Pennsylvania pest control company that understands that pests are not only a nuisance but can become a threat if left unaddressed. That is why we offer pest control in Blue Bell, Collegeville, and all of Montgomery County as well as other counties in Pennsylvania that effectively resolve pest problems, no matter how much of a challenge they pose.
Home Pest Control In Blue Bell, PA
When you contact Moyer for effective residential pest control in Blue Bell, you'll benefit from the experience of our Service Professionals ™ and programs that allow you to choose the coverage that best meets your needs as a homeowner.
Whether you opt for our Exterior Guard or want to protect your family from common household insects AND termites with our Complete Home Guard Plus you will enjoy 100% total satisfaction. Learn more about Moyer's home pest control programs.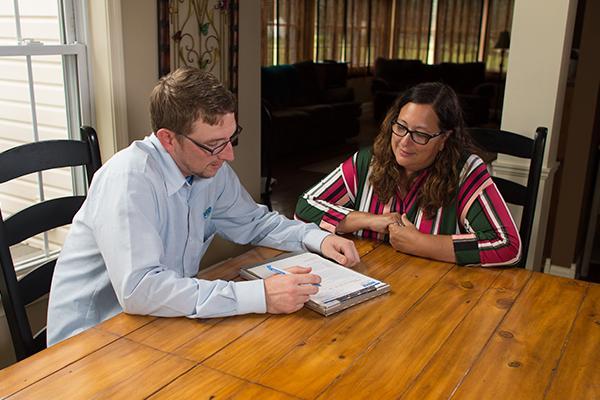 Pest Control For Blue Bell, PA Restaurants And Other Commercial Facilities
Tailored to your specific industry, our commercial pest control is the ideal way to protect your customers, employees, and facilities from insects and rodents that pose a threat. Benefits of partnering with Moyer include:
Saturday & After Hours Services

Centralized Scheduling

Comprehensive Reporting
Don't let cockroaches, flies, rats, and other pests harm your company's brand; contact Moyer today.
We're Ready To Help
Get started today! Schedule now or call for more information.
K9 Bed Bug Inspections In Blue Bell, PA
If you are concerned about a bed bug infestation in your home or business, Moyer Pest Control can help. We offer K9 Bed Bug Inspections that allow you to quickly and accurately detect bed bugs, even in the early stages of an infestation. Our canine bed bug teams will inspect for bed bugs in a variety of environments, including:
Residential dwellings

Apartment buildings

Hospitals, medical offices, and other healthcare facilities

Hotel rooms

School dorms

Movie theaters
Accredited by the NESDCA, our K9 bed bug inspections are the best weapon in the battle against these intrusive pests. To learn more or to schedule your bed bug dog inspection in Blue Bell or elsewhere in Pennsylvania, please contact us.
Family Owned And Operated Since 1869
Aside from providing impeccable service for over 140 years, here are a few good reasons why you should consider choosing Moyer for all your pest control needs in Blue Bell:
59 Minute Emergency Guarantee

Your Pay Commitment
If ants and other pests have become a problem in your home or business, contact Moyer today to achieve and maintain a pest-free environment. And for added convenience, we also offer a variety of other services to help you maintain your property, including:
Heating

Plumbing

Air

Pool & Spa

Tree, Lawn & Shrub Care
Serving Blue Bell, Pennsylvania – 19422, 19424
How To Control Mosquitoes On Blue Bell, PA Properties
Mosquitoes are parasitic pests that latch onto their chosen host and feed on their blood. The scary thing is that they could potentially be transmitting diseases through their bite. If you want to control mosquitoes around your Blue Bell home, it's important to be proactive. Here are some helpful tips for reducing your chances of getting bitten by mosquitoes:
Keep vegetation well-trimmed and keep the grass short.

Use insect repellent before participating in outdoor activities.

Wear long pants and long sleeves when possible.

Wear permethrin or DEET-treated clothing.

Eliminate sources of standing water throughout the yard.
These tips can help, but still, the most effective way to control mosquitoes around your property is with help from the pest professionals. Reach out to Moyer Pest Control today to address all of your mosquito control and prevention needs. We're here to help protect your home from mo all year long.
What's The Best Way To Check For Bed Bugs In Blue Bell, PA?
When it comes to bed bug infestation, it's important to stay ahead of the problem. Bed bugs can spread very quickly, so if you don't address signs of activity early on, the problem can spin out of control. That's why you should be aware of the signs that indicate bed bug activity.

If you see little red spots of blood on your linens, you should be suspicious. These are likely stains left behind from bed bugs feeding on your blood. If your sheets have little bloodstains and you wake up with a line of little red bites that you didn't go to sleep with the night before, it could be bed bugs. It's also common to find little eggshells, shed skin, and excrement spots around their hiding areas.

At the end of the day, the best way to address bed bug activity is to contact the Blue Bell, PA bed bug control experts. Here at Moyer Pest Control, our team has the necessary knowledge and experience to identify bed bug activity, and thoroughly eliminate the problem. Contact us today to discuss your bed bug control needs.