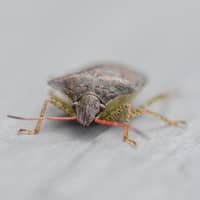 The air is getting a chill to it, the days are getting shorter and the fall leaves are turning a fiery amber. You know what that means. That's right! Bugs are going to start trying to get into your house. Oh ... And it's fall.
Here is your quick guide to preventing fall pests, like: the boxelder bugs, ladybugs, stink bugs, spiders, and those lovable rodents.
Outdoor protection
All of these creatures will be looking for a gap or a hole to get in. The most common vulnerability is rotted wood. Find any areas where wood is rotted and patch or replace those areas. In most cases, it won't be an obvious or an easily seen spot. Some houses have weak points under the deck or garage. Others have weak points up near the roofline. It takes a gap the size of a dime to allow some mice into your home, and a crack as thin as 1/4 of an inch to let all those spiders in.

Most bugs, like: the boxelder, ladybug, stink bug, and spider, go for the screened windows or doors. Make sure your screens are in good working order.

Screens also help to keep the rodents out. Cover any vents that allow access to your home, and cover the chimney, so rodents and bugs can't get down in.

Wire mesh is a great tool as well. Fill the bottom of downspouts, so water can pour out, but rats and mice can't climb up to the roof.

Use a caulking gun to seal around air conditioning units, pipes, and electrical boxes. This is a common entry point.
Indoor protection
If the bugs are getting in, many can be dealt with by using a vacuum or Dustbuster. You don't want to be squishing stink bugs, boxelder bugs, or ladybugs. These bugs have secretions that can stain. Just suck them up, and dispose of the bag.

Deter rodents by not providing them with food or water sources. Make sure that sink pipe is not leaking and be sure to keep all crumbs, spills and dirty dishes cleaned up!

As for spiders, a broom works great for cleaning up their webs. It has a good reach, and gets them in the corners near the ceiling.
These tips will get you most of the way to bug proofing your home. But to be 100% sure those bugs aren't coming in, it is a good idea to get year round protection from a pest professional. With knowledge, experience, and a limited and localized use of pesticides, a trained technician knows how to discourage any bugs that are still interested in testing your defenses. Don't share your home with these home wreckers. Call and find out how easy and inexpensive peace of mind this fall can be.