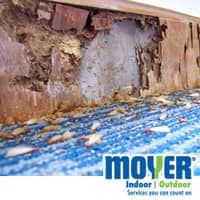 The challenge of identifying a termite infestation is quite a lot harder than you might think. Termites are known for infesting the wood inside a structure. They literally eat the wood from the inside out. Since their destruction is so subtle, termites have become known as the "silent destroyers". Termites handiwork leaves few hints or signs behind of their presence. Unless you have x-ray vision, you may not know that you have a termite problem until long after some serious damage by these pests have been done!
So, to help you determine if you have termites in your home, here is a little test… Answering yes to any of these questions does not mean you have termites, but that you COULD have termites in your home. It also means you could have had termites in your home at SOME POINT IN TIME…It could also mean you don't have termites at all! See, we told you this wouldn't be easy!

Wood that appears weather damaged can be a sign of termites. Has the damaged wood in your home been affected by the wind and rain or by hungry termites? It can be tough for the untrained eye to tell!

Windows and doors that begin to sag. In an old farm house or even in a home that wasn't built up to code, sometimes sagging window or door frames can become obvious. Now the question remains- are termites the cause of the sagging or is it due to bad building practices?

Painted wood that looks blistered. Again, this can be caused by termites, but it can also be caused by a multitude of other things.

Shed termite swarmer wings. If you actually witness a termite swarm on your property or even INSIDE your property, this is a pretty definitive clue that termites are present. After they swarm, they drop their wings and crawl away. But sometimes people find it hard to tell the difference between termites and ants- so you may not actually realize which insect is threatening your property.
If you're confused, don't worry, you're not alone! Figuring out how to get rid of termites on your own is definitely an overwhelming and nearly an impossible task. Termites are a really difficult pest to identify without the help of a professional, which is why the pros at Moyer suggest calling us to perform a termite inspection for you. Our pros are trained extensively on how to recognize signs of termites and termite damage. They will let you know if the wood that appears weather damaged in your home is simply that, or if termites have actually been at work. If our professionals find termites, don't worry! We know how to get rid of termites and how to keep them from coming back!
At Moyer, we offer several different options for termite control. Our programs can offer termite baiting, inspection services and treatment to affected areas as necessary. When it comes to termites, it is a good idea to be proactive. For this reason, Moyer also offers termite preventative programs to make sure that we find termites before termites find you.
For more information on termite inspections, termite control programs and the home pest control service programs available in Pennsylvania, please contact the friendly professionals at Moyer Indoor | Outdoor today!