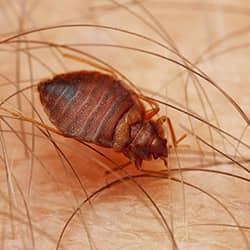 There is no questioning the fact that no homeowner wants to be faced with a bed bug infestation. Knowing you are sleeping in the same bed with bugs that are feeding on you while you sleep is not a recipe for long restful nights and happy mornings. The good news is that when you choose Moyer to treat your home for bed bugs, you find the freedom you are looking for. Here's why.
Why Heat Treatments Work
There are a number of reasons to choose to treat your home for bed bugs using heat rather than by other means. Here are a few you should know.
Bed Bugs Can't Hide From Heat: Bed bugs are adept at being able to run and hide when faced with danger. Some of the places they hide include inside wall voids or deep inside furniture. This can save them if they are up against pesticides or

another

form of chemical treatment. However, hiding does not save them when your entire home is heated to 120 degrees, a temperature that is lethal for bed bugs.
Heat Treatments Kill Bed Bugs With Insecticide Resistance: During a bed bug's development, if they are exposed to insecticides, they can develop a skin that is resistant to those pesticides. In addition, they may also produce offspring that are resistant. One of the benefits of heat treatments is that it kills all types of bed bugs, even those with resistance to pesticides.
Fast and Effective: The biggest benefit that heat treatments have over other forms of treatment is that they are fast and effective. Many chemical treatments require several applications and check-up visits to make sure your bed bugs are completely gone. This can take weeks if not months to fully know your home is bed bug-free. When you choose Moyer's heat treatments, you don't have to wonder if all the bed bugs will be gone after we're done. All you have to do is leave your home to us for a few hours and when you return there will be no bed bugs left alive.
No Threat For You and Your Family: Above all else, heat treatments leave no residual residues or gasses that will threaten the health of you and your family.
If you are dealing with bed bugs in your home, you can rest easy knowing Moyer has a solution for you. For more information on our heat treatments, or to schedule a bed bug inspection, contact us today. Our team is ready to help.