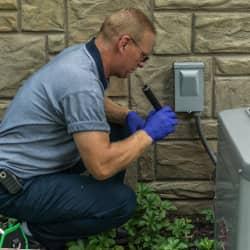 When it comes to choosing a pest control company that is trusted, deep-rooted, and has a wide range of service options, Moyer Pest Control has everything you will ever need. Moyer has been providing Pennsylvania residents with outstanding service since 1869, and as a company with over 140 years of experience, we understand that each and every pest situation calls for a unique solution. Pests ruin properties, but they don't have to ruin yours.

Whether you are a home or a business owner, no one wants to deal with a pest problem on their own. Moyer Pest Control offers both residential and commercial pest control programs to cover each and every pest problem you may face. With our three home pest control programs, you get to choose how much protection your home receives. Our Exterior Home Guard, Complete Home Guard, and Platinum Home Guard programs each provide Westchester residents with cost-effective treatments and a 100% satisfaction guarantee. For business properties, Moyer Pest Control offers distinct advantages with our Integrated Pest Management (IPM) centered services. Our commercial services eliminate any existing pest problems, only applying appropriate chemicals when they are absolutely needed, and prevent future pest infestations in your restaurant, hotel, healthcare facility, or other commercial facilities.

Unlike several other pest control companies, Moyer understands that homeowners don't always have the abilities or tools to be experts in every area of home maintenance or repair, which is why our service professionals are trained to fix any home problem efficiently and without a need for a second visit. Moyer's team of highly trained professionals offers several years of experience dealing with every pest, big or small. Lawn care, pest control, and tree and shrub care are all on our extensive list of services for your home. Whether your pest problem is indoors or outdoors, our team has the tools and experience needed to deal with it.

If keeping your home or business property safe is high on your priority list, DIY techniques just don't cut it. Professional service from Moyer Pest Control will always keep your property safe from ants, termites, mice, and several other pests all year long. At Moyer, you can expect dedication and expertise from our team of pest professionals that you won't find anywhere else. Don't let pests invade your property—contact Moyer Pest Control today for more information on all our comprehensive treatment services.