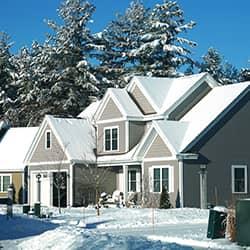 Why New Castle County Residents Call Moyer First for Winter Pest Problems
Winter is a wonderful time where New Castle homeowners see a reprieve from the heat and from pests that thrive in that heat. Unfortunately, cold temperatures can cause pests to seek shelter within the warm interiors of our homes. And these invasions can lead to some serious concerns.
Concerns Of Common Winter Invaders
There are a number of pests that you may find invading your home these winter months. Amongst the most common are pantry pests, cockroaches, and rodents. Here are some problems these pests have been known to cause.
Pantry Pests: Pantry pests are insects such as beetles, weevils, and moths that invade (mostly) dry foods to lay their eggs. This can contaminate not only items of food, but entire pantry spaces.
Cockroaches: Cockroaches are filthy pests that have the propensity to carry harmful and dangerous disease and bacteria wherever they go. Some common diseases they have been known to carry and transmit include Salmonella, Typhoid, Cholera, Gastroenteritis, Dysentery, Leprosy, Plague, and more. Along with this, cockroaches have also been known to trigger asthma attacks.
Rodents: Much like cockroaches, rodents are also filthy creatures that can spread diseases. Some of these diseases are Hantavirus, Hemorrhagic Fever, Lassa Fever, Leptospirosis, Plague, and more. They can also pose a major threat to the interworkings of homes. They do this with the use of their two sharp front incisor teeth that they use to chew through things that stand between them and an area they want to get into. This could be anything from a plaster wall to a clump of wires within the walls of your home.
Why Winter Pests Are Hard To Treat Yourself
Dealing with winter pests can be a massive hassle, and store-bought pest solutions often fall short. The two biggest store-bought pest products are traps and pesticides, both of which can prove difficult to use, be ineffective, and sometimes even be dangerous to more than just pests. If this leaves you at a loss of what to do, here is some friendly advice; Call Moyer For Your General Pest Control!
When it comes to getting and keeping winter pests out of homes, no one does the job more effectively or efficiently than the professionals at Moyer Pest Control. Whether you have rodents in your walls, cockroaches under your fridge, we have the solution for you. It comes in the form of our quality year-round general pest control plans. No matter what your pest is, we have a solution. For more information about how we
eliminate winter pests
, call to schedule a visit with one of our qualified pest technicians today!