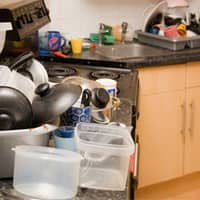 From way up there, it is hard for you to see those crumbs that sprinkled on the floor this morning when you made your toast, but if you were a cockroach, those morsels would be the size of a cherry. It is also hard for you to see the grains of powdered sugar that dust the floor near the stove, or the gob of jelly that accidentally dripped between the fridge and the counter while you were wiping up last night. Spills happen all the time. It might be juice that ran under the refrigerator. It might be bacon grease that spilled down the crack by the stove. The bottom line is, all those wonderful spills that get into hard-to-reach or hard-to-see places are food for pests.
Household pests are looking for three things: food, shelter, and water. There isn't much you can do about the shelter part, but if you make food and water sources scarce in your home, you will make it less attractive to pests like ants, cockroaches, flies, spiders, pantry pests, and mice.
Here are some tips to get you there.
Always keep your trash covered.

Pull your stove out and clean the sides periodically, as your home requires.

Move the fridge and clean under it.

Leave soapy water in the sink, and soak dishes, instead of leaving them in a dry stack.

I know it is a pain, but mopping your kitchen floor can go a long way to keeping sticky food from attracting pests.

Keep counters and stove-tops clean with disinfectant.

Vacuum rugs regularly.

Leave fruit in the fridge, or in a bag, till you're ready to eat it. This has two benefits: Your home will be free of fruit flies, and the spiders that eat them.

Put cereal and pantry type foods in hard plastic containers. Bugs and rodents can easily search cabinets. Sealing your foods keeps them fresh, protects them from being contaminated by chewing pests, and keeps the smells from luring pests in through the walls.

Fix any dripping faucet or pipe.
These tips alone can go a long way to making your home more resistant to bugs and rodents, but to be pest free you'll need to partner with a pest management company. They can show you exclusion techniques specific to your home, outline a plan to seal your walls, and apply limited and focused pesticides to vulnerable areas. In this modern era, you don't have to live with bugs and rodents that can be excluded from your kitchen, and your home. Make 2015 the year you stop living with pests.