At the first signs of a cockroach infestation in your home, you may be wondering what the best cockroach control products are and how to combat this pest effectively. Fortunately, our specialists at Moyer Pest Control provide pest control in Souderton.
If I See One Cockroach, Does That Mean There Are More?
Typically, one of the first signs of cockroach infestation is seeing a cockroach around your home. This is because cockroaches tend to stay hidden out of sight or in hard-to-reach areas. When you start seeing a cockroach or two roaming around your home, it generally means there are more and might even mean an infestation is becoming out of control.
Other major signs of a cockroach infestation include:
Cockroach droppings on surfaces that look like black pepper or coffee grounds
An unexplained musty odor
Smear marks on walls, in cupboards, or on counters (this will typically be brownish in color)
Shed cockroach skins or dead cockroaches found around your home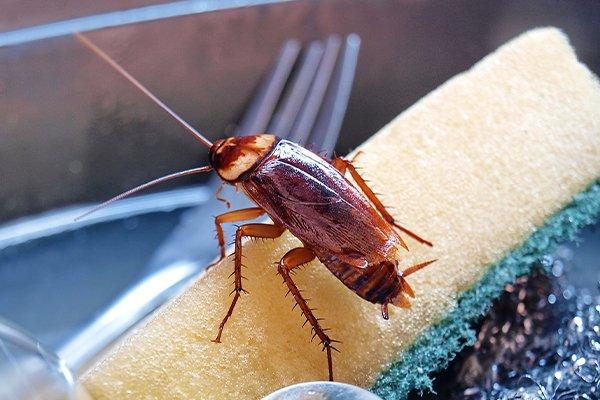 How Did I Get Cockroaches?
There are a few ways that cockroaches may invade your home and several different types of cockroaches in the Souderton area that you should be looking out for. These cockroach species include:
American Cockroaches
German Cockroaches
Oriental Cockroaches
Brown-Banded Cockroaches
Wood Cockroaches
These pests will often enter through the gaps in your home's windows, doors, and foundation. They may also enter through doors and windows that you routinely have open or travel into your home in boxes of stored items or second-hand items that come from an infested area.
And if you need help identifying the type of cockroach causing problems in your home, you should contact Moyer Pest Control for expert assistance as soon as possible.
Can I Get Rid Of Cockroaches?
If you're wondering how to get rid of cockroaches, you might not want to go straight for DIY cockroach control products. These home remedies and other store-bought methods are not necessarily the most effective at eliminating cockroaches from hidden areas and targeting the root source of an infestation.
To truly get rid of cockroaches and save yourself stress, you should be investing in cockroach pest control in Souderton. Our experts at Moyer Pest Control can help you eliminate a cockroach problem of any size.
How Can I Prevent Cockroaches?
Learning how to prevent cockroaches in Souderton includes following these steps to keep this pest out of your home and off your property:
Seal up potential cockroach entry points around your home, such as cracks in windows, doors, and the foundation. Also, put sturdy window and door screens into place and keep exterior entrances closed when possible.
Ensure that all leftover food is stored correctly and refrain from leaving out dirty dishes or food spills. This stops the aroma from attracting cockroaches.
Tightly seal up trash bags and dispose of all waste promptly. Be sure that you have trash cans with lids to keep cockroaches out.
Keep your yard clear of debris like fallen fruit and branches and ensure the grass stays trimmed low. This makes the area less hospitable to cockroaches looking to hide.
And remember, for any active infestation of cockroaches, you should be reaching out to cockroach pest control in Souderton. Let our professionals at Moyer Pest Control remove your cockroach problem so you can live peacefully pest-free.