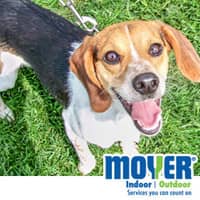 Wouldn't it be great if you could sniff out bed bugs and know for sure that they are in your home or business? Well, with canines that have a 98% accuracy rate in detecting bed bugs it's possible! No chemicals and no doubt. Bed bug dogs are at an amazing advantage in the fight against bed bugs. These dogs are specially trained to find bed bugs, much like dogs who are trained to sniff out bombs or drugs for police forces. Within minutes, bed bug dogs can confirm the presence of bed bugs, if they are there. Bed bug dogs can do many things for your home and business, including:
Inspecting and targeting bed bugs in residential and commercial settings

Pin-pointing infested areas for exact treatment options

Inspecting treated areas for success or failure of previous treatment

Discreet detection that is done quickly and accurately

Detection of not just live bed bugs but bed bug eggs as well

Inspection of large areas (like hotels) with just minutes spent in each room

Sniffing out bed bugs without having to disrupt a room's furniture
A bed bug dog is the most accurate and best way to find the existence of bed bugs. They can search in all types of places for these pests. These places can include but are not limited to:
All types of residences, including:
Single family homes

Multiple family homes

Condominiums

Apartment buildings
All types of commercial buildings, including:
Hotels

Motels

Dormitories

Movie theaters

Office buildings

Schools
There is almost no limit to their searching capabilities. Bed bug K9's are irrefutably the way to go in bed bug inspection, prevention and detection. The detection provided by these dogs has the capability to save you time and money! For more information regarding our bed bug services, contact us today!
Moyer offers bed bug control and pest control in West Chester, PA; Souderton, PA; and Telford PA. We also serve Bucks, Chester, Delaware, Lehigh-Northampton, Montgomery and Philadelphia counties.