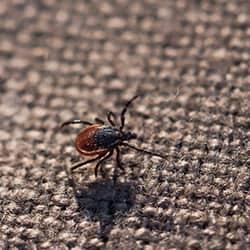 As the temperatures warm, ticks become more active and become a serious concern for New Castle residents. According to the Centers for Disease Control, Pennsylvania led the nation in reported cases of Lyme disease in 2016; the most recent data released. More than 11,000 cases were reported in Pennsylvania, and Delaware had more than 500 cases.
Ticks, which carry Lyme and other serious diseases, become active as temperatures rise above freezing, and so during mild winters, the tick season can extend a long time in Pennsylvania. As ticks go through their stages of life – from larvae to nymph to adult – they switch hosts; generally moving to larger animals as they progress. At this time of year, nymphs are hatching, and they prefer relatively large warm-blooded hosts, including humans and pets.
New Castle residents need to be wary of four different kinds of ticks, each of which can carry disease. These include:
· Blacklegged Tick - which transmits Lyme disease

· American Dog Tick - which carries Rocky Mountain Spotted Fever and tularemia and targets dogs in particular

· Lone Star Tick - known to carry ehrlichiosis, tularemia, and Rocky Mountain spotted fever (RMSP)

· Groundhog Tick - known to carry Powassan (POW) virus
There are some things you can do to protect yourself and your pets from a tick-borne illness:
Check yourself, your children, and your pets for ticks when you come in from outdoors. On your pets, ticks are most likely to be found under the collar, around their eyes, around the tail, or in and around their ears. Also, check between their toes and between the front and back legs.

Ask your vet about the best tick prevention for your dogs, such as flea and tick collars.

Take steps to make your New Castle yard less hospitable to ticks and the wildlife they may hitch a ride on; such as rodents and deer. Trim tall grass and bushes, as well as overhanging branches to reduce shady areas where ticks and rodents like to hang out.

Wear long-sleeved shirts and long pants when outdoors. It's easier to spot ticks when they jump on you if you're wearing light-colored clothing.

Use an insect repellent, following the instructions on the label.

Check your foundation and siding for small crevices where rodents could enter your home. Seal these areas to prevent small animals and the ticks they may carry from entering your house.
With our relatively long tick season in Pennsylvania, ticks are a concern for most of the year. While continued vigilance will help protect your family and pets from a tick-borne illness, Moyer Pest Control can partner with you to protect your loved ones.
Moyer offers a variety of packages to help you control ticks and other common pests. Our Platinum Home Guard program provides four mosquito and tick applications annually to reduce the population of these disease-carrying insects from your New Castle property.
Call Moyer today to learn more about our services or to schedule a service call.