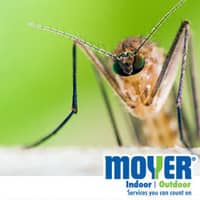 The latest threat in the news is the spread of West Nile Virus affecting people across the country. Many states have found batches of mosquitoes testing positive for West Nile Virus (WNV) which is a direct threat to us. With the number of cases rising, including a death toll, it is important that residents of Pennsylvania are well aware of what WNV is and how to prevent it.

WNV is spread to humans from the bite of an infected mosquito. Where do mosquitoes get the virus you ask? They actually get it from infected birds, but mosquitoes seem to be the only transmitter of West Nile to humans. Many people infected with WNV are not even aware they have it because there are no symptoms. So as the number of cases begins to climb, in actuality there could be many, many more infected humans.

For those with a weakened immune system including young children and elderly folks, WNV may prove to be a more serious concern that requires hospitalization to control and monitor the symptoms. The most common symptoms associated with WNV are fever, headache, and body aches while more serious symptoms can be high fever, disorientation, tremors, and paralysis. Some only experience symptoms for a few days while others last for weeks.

It may seem crazy that the bite of tiny mosquito can lead to such health problems but it is important that while WNV is spreading so rapidly that everyone amps up their own defense to protect themselves from mosquito bites and potentially becoming infected with WNV. You can refer to our previous blog, Get Ready For Mosquitoes In PA to get tips on how to prevent mosquitoes from infesting your property and potentially spreading WNV.

Because mosquitoes are a difficult pest to prevent, the PA pest control experts at Moyer Indoor | Outdoor are ready to help! For tips on mosquito prevention and WNV, please contact us today! Moyer provides pest control service throughout many Pennsylvania counties including Northampton, Lehigh, Bucks and Montgomery Counties.