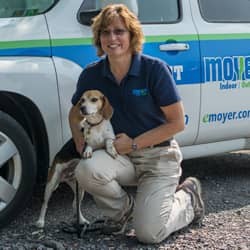 Let's be honest; we don't like to spend money on something we can fix on our own, do we? And, with self-help videos and articles available with a few clicks of the mouse, it is easy to run to the internet when bed bugs appear. But, here are two reasons you may want to get those bed bugs taken care of by a pest control professional.
If you do it right, bed bugs are really difficult to get rid of. There are some resources available that will walk you through the process of stopping an infestation, but the steps are exhausting. You'll need to strip your bedding, put it in a plastic bag, and toss those things into the washer--making sure to dispose of the bag without letting any bugs out. You'll need to use a steam cleaner and HEPA vacuum to clean your bed, box spring, and furniture in your home. Once this is done, you'll have to get a mattress encasement to seal your mattress and box spring from future infestation. Then, you'll need to make sure that any bugs that are hiding in your walls, molding, outlets, electronics, furniture, or carpets, don't continue to feed on you. Cleaning up clutter under and around your bed and installing bed bug traps under the feet of your bed will prevent bugs from climbing up to feed on you, and help to monitor bed bug infestation levels. But, bed bugs don't just bite you in bed. You'll have to invest in products that must be sprayed or applied in every nook and cranny. You'll be on your knees crawling along the edge of your carpet. You'll be turning all of your furniture upside down. And, you'll be exposing yourself, your children, and your pets to toxic chemicals. Without proper safety protocols, insecticides can be harmful. If that sounds like a lot of work, it is only because it is.

It is easy to do it wrong. If you manage to do everything that is necessary to kill bed bugs, you can still do it wrong. Bed bugs have been dwelling with humans since the dawn of time, and they have traits that help them avoid our attempts to destroy them. At Moyer, our team uses K9 bed bug inspectors to corral bed bugs and apply treatments exactly where they need to be. They also help to ensure that all those bed bugs are gone once the treatment is concluded. That is real peace of mind.
Can you get rid of bed bugs on your own? It is possible. But it can be a complicated process that can go wrong in many ways--sometimes leading to a loss of property or even loss of life. When bed bugs appear, please call a professional like Moyer Pest Control, one that is QualityPro certified and has K9 bed bug inspectors. Some things in life are best left to the professionals. This is definitely one of them.