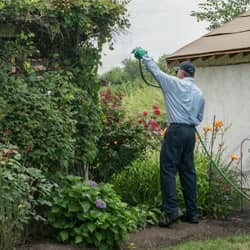 As you read this, there is something going on in your yard. Dormant mosquitoes are preparing to hatch--if they haven't hatched already. So now it the best time to start mosquito service for your property. Here are a few things you should know about mosquitoes, and why mosquito abatement is the best way to control them.
A mosquito can breed in a cup of water. That means there are probably lots of places mosquitoes could have left eggs in your yard. Maybe in a clogged gutter, or possibly a toy that was left in the yard. It could have been in a pool of water on top of a tarp that is draped over some equipment. There is a wide variety of places mosquitoes can breed. They can even breed in a pool of rainwater in your grass. Now is the time to treat these areas and kill those eggs. If you get them before they hatch, you'll have fewer mosquitoes this year.
Mosquitoes aren't just a nuisance. These irritating insects are connected to dangerous diseases that can cause birth defects in unborn children, stomach illness, and even death. While we don't have a significant threat in our Pennsylvania service area, one case of life-threatening West Nile virus or microcephaly resulting from Zika virus is one case too many.
Mosquitoes don't travel far, especially the Aedes mosquitoes, which are the primary vectors for West Nile virus and Zika virus. So, it really matters if you control mosquitoes on your property. Most of the mosquito bites you're going to get in your backyard this year are going to be from mosquitoes that were hatched within 100 yards. When you control breeding sites, you reduce bites. It is just that simple.
If you don't have mosquito eggs in your yard right now--which is unlikely--it won't be long till you do. In spring, mosquitoes get busy breeding. Your job should be to make your yard and your property less attractive to these pests. Mosquito management service does this by killing eggs, treating breeding sites, and destroying any adult females that are hiding on your property.
The most important fact you should know about mosquitoes is that a mosquito that was never born is much less likely to bite you. Reach out to Moyer Pest Control today and get your mosquito service in place. While we can't guarantee that you'll have no mosquitoes on your property, we can guarantee you'll have fewer mosquitoes. We can also guarantee that you'll be taking part in a solution that is protecting our country, our state, and our communities from the spread of mosquito-borne viruses. And that is the best fact of all.