Bed bugs (Cimicidae) are nocturnal parasitic insects that feed on mammals and birds. Adults grow up to ¼ inch in length, are reddish-brown colored, and have flat, oval-shaped bodies. They typically seek human hosts that are asleep and feed on exposed skin. Humans are unlikely to awaken while a bed bug feeds because they generate an anesthetic-type agent in their saliva that minimizes pain.
According to the National Pest Management Association, bed bugs are most common in residential homes or apartment dwellings, as well as in hotels and motels. They also are found in commercial environments, including long-term care facilities, hospitals, schools, public transportation hubs, and even office settings.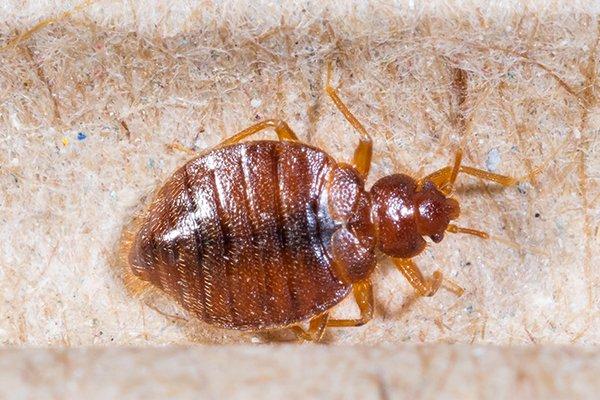 How Do They Gain Entrance To Workplace Settings?
Bed bugs are often brought into businesses within the belongings of workers, managers, customers, and other patrons. Likewise, bed bugs may venture into bags, briefcases, or other items during the workday and then be carried back to employee's homes. In offices or similar settings where humans do not sleep overnight, these pests may begin to grow very hungry and target people during the workday.
Infestations Can Spread Rapidly
Following an initial intrusion within a property, bed bugs are capable of reproducing into a large infestation in just several months. For this reason, it is critical to detect their presence and promptly seek assistance from a professional exterminator.
Common Signs Of Bed Bug Intrusion
Aside from bites, several other telltale signs indicate the presence of bed bugs. As they travel, they often leave a trail of tiny black feces, bloodstains, and layers of skin that they shed. In an office setting, you may see them in carpeting and other locations.
Are Bed Bugs Dangerous To Human Health?
Fortunately, bed bugs are not known to transfer disease to humans. People that are bitten generally will notice small red spots or irritation to the skin. It is possible that persistently scratching away at these areas of skin could increase the possibility of infection.
Responding To Bed Bug Intrusions In Business Settings
Many business owners and managers underestimate the resilience of bed bugs and attempt to fight these invasions themselves. These measures may involve purchasing do-it-yourself kits, aerosol sprays, or fogging products that tend to generate minimal results. In these cases, it is strongly recommended that you initially contact a pest control expert.
Best Practices For Bed Bug Prevention
Promptly notify and educate your staff when bed bugs are suspected to have infiltrated your business.

Always inspect belongings for evidence of bed bugs when you travel between home, work, and use forms of shared transportation.

If staying overnight at a hotel, always examine the bed area closely, and avoid placing any belongings on the bed before the inspection.

Clothing that may have been exposed should be thoroughly washed and dried on a heated setting.

Vacuum the floor, carpet, and baseboard areas regularly.
Experienced Provider Of Bed Bug Extermination Services
When responding to the scene of a suspected bed bug infestation, the seasoned team of professionals at Moyer Pest Control performs a thorough inspection of the premises. This may involve a variety of methods for detecting and measuring the extent of the intrusion, including the deployment of trained dogs that perform K9 Inspection Services.

We employ customized treatment options based on the nature of the problems. These options may include conventional chemical solutions, thermal heat treatments, or the usage of Aprehend, a special natural biopesticide. From there, we take the necessary follow-up measures to ensure the pests have been fully eradicated. Contact us today for an appointment.