Most insects are awful. They can bite or sting you, spread germs and make you sick, or ruin your property. Bed bugs in Souderton are no exception. They invade intimate spaces, like your mattress, and nibble on you without your knowledge. Soon, you'll have several itchy, red bumps on your body that are both unsightly and uncomfortable. Souderton homeowners dread these critters.
Businesspersons should be equally concerned about bed bugs. These pests don't discriminate with their infestations. Your investments could be on the line. If employees or customers feel unsafe, it could result in your establishment closing. Get the scoop on bed bugs in businesses, and how Moyer Pest Control can help you.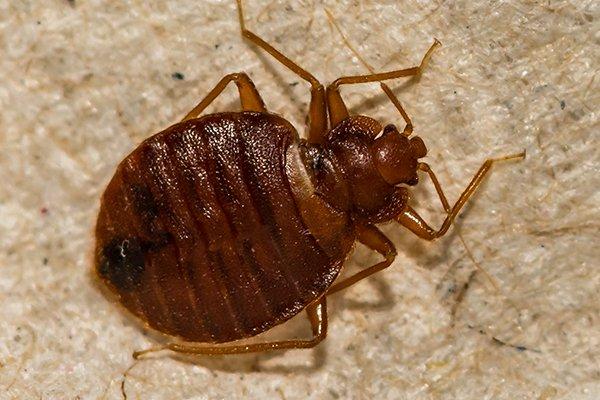 How Do Bed Bugs Get Inside Businesses?
Blood is the only thing bed bugs feed on, so they go where they can get the fluid. That means residential areas, public places, and zones populated by animals. It isn't all about mattresses for these critters. They will crawl into and hide in the following items:
Personal bags and luggage

Fabrics and clothes

Couches

Upholstery

Wood trim

Wallpaper

Flooring

Appliances

Electronics
If bed bugs haven't infiltrated your property simply hunting for blood, customers and employees can inadvertently bring them in. They could've been in an infested location, such as a hotel, train station, school, or their own home. You'll know if you have a bed bug problem if you start to see random stains on surfaces, or smell a persistent "musty" odor in the air. These insects leave blood and reddish-brown smears. Their fecal droppings are black or brown, and are sometimes powdery. Naturally, having bites on your body is also a sign of infestation. They'll be grouped together or in a line and may appear as a rash.

The most common bed bugs are oval and reddish-brown. They have six legs and two antennas. Their heads and tails are round, but their bottoms are noticeably larger. Their midsections are an abnormal shape. Size-wise, they're usually no bigger than ¼ of an inch long. Their young are translucent; the eggs are white.
How Can You Prevent Bed Bugs in Businesses?
Making sure bed bugs don't threaten your profits, staff, and patrons will involve keeping a close eye on your property's interior. You'll have to carefully and diligently clean, and inspect things like furniture and surfaces. It will also require having open communication with your team about pest protocols and control. This may sound painstaking, but it's more than necessary. Take these steps:
Clean and vacuum all areas regularly; this includes lobbies and hallways.

Reduce clutter; especially in storage rooms.

Routinely check the seams and crevices of upholstery and furniture for indications of infestation.

Examine surge protectors, electrical sockets, and picture frames; bed bugs like to nestle in them.

Look over shipped packages and boxes when they come in.

Tell employees to report any bed bug activity they spot, or if they have an issue at home.
How Does Moyer Pest Control Exterminate Bed Bugs?
Don't try to eliminate bed bugs independently. These critters reproduce at a rapid rate and are often too small to locate. Every single bed bug must be found for extermination to be successful; even the eggs have to be picked up. "Do it yourself" methods won't provide a total sweep, and they're often dangerous to utilize. Contacting Moyer Pest Control is a safer and more reliable option.

We've been in operation for 150 years and counting. We've got bed bug removal down to a science. Our insecticides, heat treatments, and Aprehend® products are top-of-the-line and thorough. Bed bug services come with a warranty and recurrent visits. Call us today to get started!