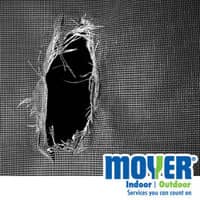 The experts at Moyer know that spring is a great time of year for picnics and family get togethers. Unfortunately, with the warm weather of spring also comes pest infestations. In fact, many pest infestations begin in the spring as pests are waking up after a long winter and are looking for food and new places to nest. Now is a good time to be thinking about spring pest control measures that you can take to prevent insects, rodents and wildlife from being attracted to your home and property this spring and summer. Here are some highly effective, spring pest prevention tips from our West Chester pest control experts:
Make sure that trees and vegetation are cut back away from your home. Tree branches can act as a bridge to your home. Additionally, dense and overgrown vegetation makes for good hiding places for pests.

Never leave pet food out overnight; this can attract hungry wildlife as well as insects like flies and ants.

Check gutters to make sure that they are unclogged. Not only is this important for the diversion of your water, but pests will nest in your gutters if allowed.

Keep your kitchen and pantry as clean as possible. Remove crumbs and spills regularly and never leave dirty dishes in the sink overnight. Food that is readily available (even just crumbs!) can attract hungry pests like rodents and ants.

Clean up clutter. Pests will find good hiding places in clutter that is scattered around your home or in storage areas.

Limit areas of high humidity inside your home. Pests like ants appreciate damp and humid environments, so if you have especially damp areas, make sure you run a dehumidifier regularly to reduce the moisture. Also, check to make sure all pipes are intact and free from leaks.
When it comes to spring pest control, it is best to stay on top of it so that you don't get an established infestation before the summer months arrive. To help prevent infestations, you can follow all our tips, but our pest control professionals strongly recommend a year round pest control program to prevent pests throughout every season. At Moyer, our experienced Service Professionals™ practice an integrated approach to year round home pest control with our Exterior Guard, Complete Home Guard and our Complete Home Guard Plus programs. These programs all offer the personalized attention that Moyer is known for. Contact us today to learn more about these programs and to schedule your first appointment to keep pests out of your West Chester home not only in the spring but throughout the entire year!