At Moyer, we help residents and business owners meet the challenge of dealing with bed bug infestations. We recently completed our Holiday Travelers Guide For Bed Bugs. Now, we set ourselves to the task of creating a simple and easy-to-follow guide for hotel managers in West Chester. If you own or manage a business in lodging, travel, or tourism, this should give you some important insight into this challenging pest threat.
How Bed Bugs Get In
You probably know that these insects don't come in from the grounds around your establishment; they're carried in. So your exterior pest control treatments will have no impact on bed bugs. The only way to stop bed bugs is to catch them quickly and apply discrete, targeted treatments to eliminate them.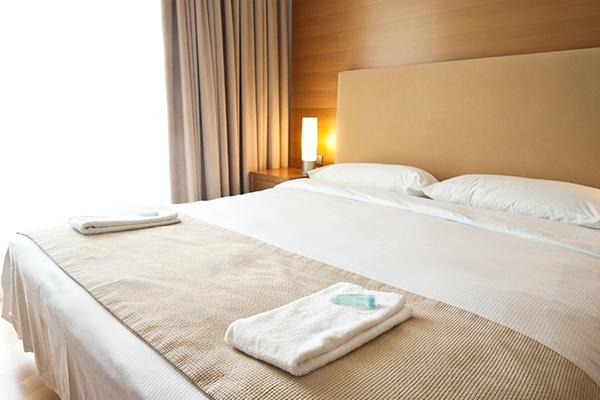 Bed Bug Response
It is inevitable that you will have a guest come to you with a report of bed bugs. You should be ready to give a response. There are three things your guest is looking for:
Your guest wants to be comforted. Explain that you have a pest control plan that includes routine inspections for bed bugs and that house cleaning is always on the lookout for these insects. This will go a long way toward calming fears.

Your guest wants to know the level of the threat. It is important that your staff is able to clearly articulate that bed bugs are not known to spread diseases and that, while bites can be uncomfortable, they usually are nothing more than a small, itchy spot.

Your guest wants an apology. Even if it could be their fault that bed bugs are in the room, it is always best to apologize for the inconvenience and offer to provide another room with an explanation that this is an isolated incident, and they should have no issues in a room that is not adjacent, above or below their current room.

Your response can help to prevent a bad review on social media, and work to assure your guests that you run a business they can trust and recommend to their friends. All that is required for this is that your staff be trained to give an educated and sympathetic response.
What To Look For
All staff should know what to look for, especially housekeeping. Your housekeeping staff is on the frontline of bed bug detection and control. Bed bugs can come into your business every single day, and all it takes is one bed bug sighting to make your guests think your business is filled with them. Have your staff look for the following in cracks, crevices, and dark hiding places.
Black specks, streaks, or patches. This could be the excrement of bed bugs. When this warning sign is seen, examine the area more closely for the other signs listed here.

Tiny white eggs. Bed bug eggs are pale white and about 1mm in length. They may be scattered about or in small batches. These can be found in the compressed area between mattresses and box springs, in the recesses of bed frames, and in the seams around box springs and mattresses, among other places.

Shed insect skins. Bed bugs shed their skins as they develop.

Blood stains. These may be red or tan, depending on the age of the spots.

Bed bugs. All staff should be able to identify bed bugs in every stage of development.
Ongoing Bed Bug Inspections
For added protection, it is wise to have routine inspections from a licensed pest management company. At Moyer, we perform bed bug inspections quickly with K9 Bed Bug Inspectors. We would love the opportunity to tell you how it works, and help you put into place ongoing inspections that will help you protect your brand from the harmful impact of bed bugs. Reach out to us today for more information.