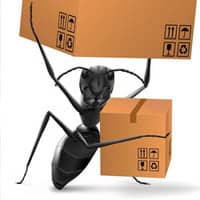 Bugs are great, aren't they? Why are you shaking your head? You don't love it when those cockroaches skitter out of your air conditioner and race up the wall at 15 miles an hour? You don't like snuggling up next to a hundred bed bugs as you slide into bed? What about ants? Those are cool. They can carry 10 to 50 times their weight. That's like a human carrying a minivan! Sure, they crawl all over your trash and then all over your counters, but that is a small price to pay for having such an interesting creature in your house. Right? Okay, maybe not.
There are a ton of bugs and pests that can cause trouble in your home, and in your yard as well. They chew through the wood of your home and cause the frame to bend and warp. They carry mites, fleas, ticks and lice in through entry points softened by rainwater and snow. They get into your food, spread illness, and sometimes bite the hand that feeds them. These critters belong outside of our houses and outside of our yards. If there is any place you should feel comfortable and safe, it's your home.
In West Chester Pennsylvania, Moyer Indoor | Outdoor has the tools, education and experience to keep your home protected.
Tools: State-of-the-art equipment is only the beginning for Moyer. We also focus on state-of-the-art procedures which have been developed by the country's leading expert entomologists. When you have a bed bug problem, you won't have a service professional show up at your door to do a detailed and scientific probe of your home that was procedure five years ago. Now, bed bug canine units are the most effective tool in the battle against bed bugs, and Moyer has the best sniffers in the businesses.
Education: Moyer Pest Service Professionals aren't just technicians, they are trusted advisors with the education to accurately diagnose your problem, and effectively treat it. Their staff is highly trained in the latest, most advanced pest procedures and treatments.
Experience: Moyer was established in 1869 as Moyer & Son. Yes. That is an 18 in the front of the 69. Just to give you a bit of perspective, in 1860 Abraham Lincoln was Nominated for President of these United States on the heels of South Carolina's secession from the Union. That was a long time ago. In those 140 or so years, Moyer has learned a couple of things about pest control.
If you live in West Chester Pennsylvania, you can trust Moyer Indoor | Outdoor to guard your home against pests. And, if you need some tender loving care in other areas like plumbing, heating, home security, air conditioning services, etc., well, we can do that, too. Give us a call and have the Moyer family take care of your family.