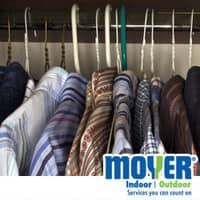 Think you might have bed bugs? If so, you're not alone. Every week we get many phone calls from homeowners saying "I think I have bed bugs!" If you suspect you could have bed bugs, it is wise to take a close look at the rooms of your home to see if you spot any of these bugs or the signs they leave behind. How do you know if you have bed bugs? Here are some places to check for bed bugs within your home; some are rather typical while others are a little weird and not places you would think to check for these blood sucking insects.
Check not just on the bed but around the bed. The bed frame, the mattress, the box spring and bedside tables are all popular hiding places for bed bugs.

Look behind light switches and electrical outlet covers. These are somewhat unexpected places but still popular hiding places for bed bugs.

Computer keyboards, especially older models are large enough for bed bugs to hide inside. They may slip between the keys and come crawling out at you when you least expect it.

Your clothing. Bed bugs are known for hiding in the seams of clothing so even though you don't realize it, you could be carrying bed bugs around with you right now.

Your closet. If bed bugs are in your clothing, there is a good chance they are hiding in your closet too.
Want to know what to do if you have bed bugs in your home? The first step is to contact the PA pest control professionals at Moyer Indoor | Outdoor. We will come out to you and perform a bed bug inspection to look for these annoying pests. Along with actual bed bugs, we will be looking for signs of these pests that include brownish-red fecal spots on bedding and furniture and shed bed bug skins; we also hope that you will tell us about any bed bug bites you've received on your body. At Moyer, we know what to do when you have bed bugs in your home and we will be happy to take care of the problem for you. Contact us today for more information on our bed bug inspection and bed bug treatment services; don't let a bed bug problem remain unaddressed, as it will only get worse the longer it stays!