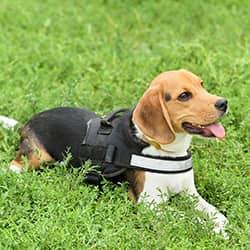 Unless you are a hermit and have never had friends or family over, you've probably heard about the difficulty and frustration that comes with finding bed bugs on a West Chester property. These invasive parasitic insects are notorious for their ability to hitchhike right into homes without the knowledge of the homeowner. Apart from their small size and hard-to-spot eggs, bed bugs are often known for their fast reproductive rate and flexible nature—all of which allow for them to be one of the most challenging pests to remove from your property; not to mention—one of the most difficult pests to defend against. Thankfully, the pest professionals here at Moyer have the necessary skills and treatment services to provide your West Chester home with an effective solution. One of the best methods we use to identify bed bug infestations is with our K-9 inspection services.
How Dogs Help Detect Bed Bugs
Once bed bugs have infested your West Chester home, removing them can be nearly impossible without the help of a professional pest control provider. It can even be hard to identify a bed bug problem on your property, especially if your infestation is in its early stages. While certain indicators, such as blood stains on sheets, tiny white eggs, and rows of bite marks across your skin can tip you off, you still have the problem of not knowing which areas of your home are infested. This issue is solved immediately with the help of our dog, Scout, who has an incredibly keen sense of smell. Through dedicated training, Scout has learned how to detect the exact location of a bed bug infestation with an accuracy rate of almost 98%!
Bed Bug Services With K-9 Inspections
With the help of our K-9 team, we can complete your bed bug inspection within a few short minutes—and with little to no disruptions to your daily schedule! Once inspected, we will discuss service options and treatments with you to find the perfect solution for your West Chester property. Without the help of a trusted team of pest experts, bed bug infestations are nearly impossible to handle alone. It's important to contact the professionals here at Moyer Pest Control. Reach out to us today to learn more about how our K-9 inspection services can benefit your West Chester home!