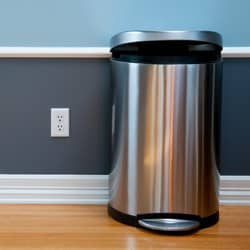 At Moyer, we've seen a lot of pest control methods through the years, and we've been around a lot of years. Founded in 1869, we've had plenty of time to learn just about everything there is to know about pests. So, this year, we're going to give you a New Year's list of the top pest prevention tips you can use to resist unwanted guests.
Make sure all your trash cans have a proper seal. The items in your trash cans are food for pests and some use those items to plant their eggs. This is so their larvae can have immediate access to food when they hatch.

Animals and bugs are fond of yard clutter. They use these items for shelter and safety from predators. Lawn clutter also catches water that mosquitoes commonly use to breed in, and animals use to take a drink from.

A trim lawn will make your yard feel less like the "wild" and more foreign to many pests.

Make sure you have no moist areas around, or on, your home. Wet soil is an attractant for many pests that live in the soil and wet wood will draw in creatures that chew wood. Make sure all of your gutters have no obstructions, and that they work to channel water away from your foundation walls.

Bugs are food for other bugs. Replacing outside white lights with yellow insect-resistant lighting is a great way to reduce pest populations.

If you plan on having a garden this year, be sure that you take the time to surround it with a fence that goes down under the ground at least 10 inches. This will keep burrowing animals from making a meal of your plants.

A caulking gun is your friend in the war against pests. Do a thorough inspection of your exterior walls and fill in any holes, gaps, or cracks you find. Pay close attention to pipes, wires, outlets, and any other object that pass through your foundation walls.

Inspect all of your window screens, door sweeps, and weather stripping. Repair or replace any that are damaged. These are notorious entry points for pests.

Be aware that some pests don't come in through your exterior walls, they are brought in. Pantry pests can be inside store-bought goods. Be sure to check all your packages before you buy. Bed bugs are brought in on clothing and inside your belongings after a trip or a vacation. Learn how to detect bed bugs while traveling. Cockroach eggs do not need the mother to hatch. If you step on a roach, you could accidentally bring fertile eggs into your home inside the tread of your sneaker.
These tips will help you reduce pests in your yard and in your home. If this is not enough and you want complete protection from pests, you'll need the help of an experienced professional. At Moyer, we employ a team of honest, hard-working and customer-focused pest experts who know how to seal pests out. Make 2016 the year you decided to live pest-free.
Happy New Year, from your friends at Moyer Indoor | Outdoor!