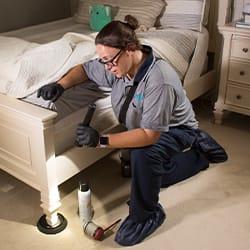 When many of us think of bed bugs, we envision dirty, cluttered, unsanitary conditions. The thing with bed bugs is that they aren't discriminatory. They will hitch a ride on anyone, or anything, and cleanliness isn't a factor. Unfortunately, the societal stigma of a bed bug infestation is hard to shake. Moyer Pest Control understands this and prides themselves on discreet and efficient inspections and treatments. We are sensitive to our client's needs and are the West Chester professionals to call if you have a bed bug problem.
How Bed Bugs Get into Homes and Businesses
Bed bugs get into West Chester homes and businesses by walking or being transported there. While they don't jump like a flea or fly like many insects, they still manage to get around easily. If you set your bag down on an infested bed or bench, toss your coat over an infested chair, sit down on a dorm room bed, or even check a book out from the library you run the risk of picking up bed bugs. They will crawl into your belongings, and then you may inadvertently bring them to your home or business.
Moyer Pest Control Bed Bug Inspections
When you contact Moyer Pest Control with a potential bed bug problem, we will start the process by first confirming the infestation. Our K9 Scout is trained to sniff out bed bugs and pinpoint their location. By doing an inspection first, we can identify the problem as well as pinpoint their exact location. This helps assess the problem and come up with a treatment plan.
Moyer Pest Control Bed Bug Treatments
If we do detect a bed bug problem in your West Chester home or business, Moyer Pest Control will present you with a targeted plan. During our initial treatment, we use heat to eradicate bed bugs, their nymphs, and eggs. Heat treatments are the most effective as they can reach bed bugs that are hiding in outlets, walls, inside books, under furniture, and of course, in your beds.
Moyer Pest Control Bed Bug Follow-Up
At Moyer Pest Control, we know that eradicating bed bugs is a complicated process and disruptive to your family or business. We do a follow-up inspection to make sure the bed bugs are gone, and previous treatments were effective.
No job is too big or too small for Moyer Pest Control. We are experts at treating single-family homes, apartment complexes, hospitals, and other industries. Our targeted approach saves time and money. Contact us today if you suspect a bed bug problem in your West Chester home or business.