There are few towns more American than Souderton, PA. Not only has it been deemed 'Classic Town of Greater Pennsylvania,' but Souderton prides itself on history, community, and an ideal way of life. It's not just its residents and visitors who have taken note of this but also small predatory migrants known as "silverfish." Moyer Pest Control of Souderton, PA, is here to help with a few silverfish prevention tips and our expert pest control staff to assist you in regaining full control of your home!
What Are Silverfish?
Silverfish range from one-half to one inch in length and get their name for their fish-like motion and shiny gray/blue color. Silverfish are insects drawn to the outside of homes while seeking moisture. These critters are not only unsightly but can wreak havoc to your personal belongings with their jaws. Though they pose no health threats to people or pets, they enjoy chewing through sugars and other carbohydrates. Their "food" may be anything from cereal to books to wallpaper. Surprisingly enough, one of the choice snacks for silverfish is wet paper or cloth.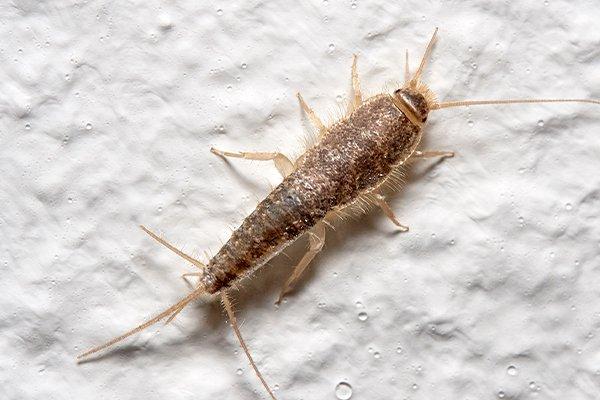 Home Interior and Exterior Silverfish Prevention
The aim of silverfish is quite simple; they seek food and moisture. Keep this in mind while preparing your home. Use plastic boxes to seal any sources of potentially wet paper or cloth (even by humidity). Sealing items such as books, cardboard, and photos can protect your belongings and reduce the chances that silverfish will find any tasty treats nearby. Silverfish also love sweet, high-carb foods. Storing sugars, starches, and flours in sealed containers protect these foods from damage and eliminate the chance for silverfish (and other pests) to snack on them.
Outside of the home, silverfish hide under yard debris, wood, and other areas providing moist shelter. A concrete prevention step is to clear the home exterior of damp, sheltering conditions by removing leaves, grass clippings, brush, clutter, and wood. Create an 18-inch zone free of these conditions around the house. Also, clean gutters, fix any plumbing issues, and clear the area of objects collecting rainwater. Next, seal the home of any potential entry points for silverfish by replacing broken door sweeps, weather stripping, or screens. Also, seal any cracks in foundations or around pipes.
Without moisture, silverfish will wither, an excellent thing to keep in mind as you are preparing your home. The key is to reduce condensation. A few ways you can do this are by installing fans in humid areas, keeping a fan running when bathing, using dehumidifiers, and fixing any leaks or faulty plumbing. By sealing off potential sources of food, shelter, and water, you are well on your way to reducing the likelihood of silverfish finding your home desirable!
Contact Moyer Pest Control
These are solid steps to take in preparing your home to deter silverfish. However, sometimes it's just not enough, especially if the silverfish infestation has gotten out of hand. Silverfish, particularly if they've had time to increase, are invasive and challenging to eliminate without expert help. Don't worry! Moyer Pest Control is here to help with both short-term and long-term solutions for your silverfish infestations.
Our Moyer team of experts provides immediate assistance by locating and eliminating silverfish. Getting rid of these predatory pests will save you from expensive property damage and help you regain control. We also offer ongoing support through our residential pest control plans, which cover silverfish. Our Exterior Home Guard, Complete Home Guard, and Platinum Home Guard plans provide a range of protective features for your home. Selecting the options and coverage that meets your needs is simple! Contact us online or call (215) 660-3642 for a free inspection today!