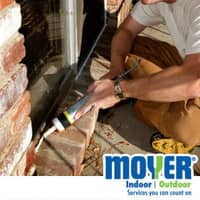 While it may seem obvious that an opening to your home will allow pests to get inside, what many homeowners are not aware of are all of the tiny cracks, holes and crevices that count as openings. It is not just the window or door left wide open that allows bugs and rodents entry. And especially now with the weather cooling off and the winter season here to stay, homeowners in Pennsylvania need to be sure that their exterior is completely sealed to keep winter pests such as mice, stink bugs and spiders out.
Not only does a proper sealing of the home help to reduce the chance of pest infestations but it will also help to keep drafts out of your home, creating a more comfortable temperature inside and even saving some money on heating costs through the cold months ahead. To help homeowners seal the exterior of the home, here are a few tips from the PA pest control pros at Moyer Indoor | Outdoor.
Carefully inspect along the foundation of the home for cracks in the cement and fill them in with caulking.

Cover vents, chimneys or utility openings with durable screens.

Apply caulking to the window frames to ensure a tight seal with no cracks or holes.

Apply weather stripping to the doors in the home to ensure they seal tightly.
With these tips you can have the peace of mind that there are no openings welcoming pests into the home. And with the winter season here, you will also have peace of mind that your home is better sealed to prevent drafts and cold air from getting inside.
If you do happen to find a mouse infestation or any other pests residing in your home this winter then be sure that you call in the pest control pros right away. At Moyer Indoor | Outdoor we offer home pest control services to get rid of winter pests and help to prevent pest infestations in the future, no matter what time of the year. To learn more about pest control in Souderton, Allentown or elsewhere in Pennsylvania, please contact us today!