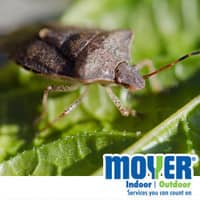 It was 1998 when the first stink bug was found in Allentown, PA but many experts believe that the pest was actually introduced several years earlier, accidentally, in eastern Pennsylvania. Regardless of exactly when, the brown marmorated stink bug is now a pest problem for many homes in Pennsylvania leaving homeowners to wonder how they can prevent and control stink bugs.

Although they do not cause harm to humans, stink bugs are well known for their smell as their name hints at. They emit a foul smelling liquid when they feel threatened or are crushed. In addition to their stench, the brown marmorated stink bug can be easily identified by its shield shaped body that is almost as wide as it is long.

As the weather continues to cool down this fall, stink bugs will be more prone to finding their way inside your Pennsylvania home for a warm place to overwinter. They may be attracted first to the outside of your home and then if they can find a crack or other opening, they will move in. It becomes important for homeowners to learn tips to prevent and control stink bugs this fall before they become a pest problem in your home.


Inspecting the exterior for any small cracks or crevices that could be used as an entrance for stink bugs.

Sealing off any openings that you do find as well as making sure spaces like utility openings are properly sealed.

Inspecting window and door screens to be sure that there are no holes or tears and then replacing any screens if need be.

Closing garage doors and other entry doors when not in use.

If you believe that your Pennsylvania home has already been infested with stink bugs then be sure to call in the PA pest control pros at Moyer Indoor | Outdoor. Our team of pest experts provide exceptional pest control services for homes to not only get rid of stink bugs but to help resolve infestations of earwigs, mice and other pests. To learn more about stink bugs and other pest control in Allentown, Lehigh County, as well as throughout Montgomery and Bucks Counties, please contact us today!