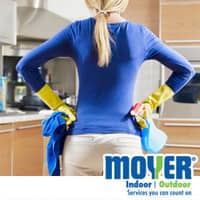 It is a well-known ritual each and every spring that we spend a little time de-cluttering and creating more space in our homes. Not only does the spring clean serve as a great way to get your house back in order, it is also a great way to prevent pests from infesting your living space. Prevention is the best way to keep insects and rodents out of your home and many pest prevention tips are simple things that you can do today. For those in Allentown, Souderton, and throughout Pennsylvania looking for some spring cleaning ideas, the pest control professionals at Moyer Indoor | Outdoor have a few thoughts on the subject.
Check all windows in your home and make sure that they have a screen that fits properly with no holes or tears. Windows are the easiest way for bugs and insects to crawl right inside especially in the spring when we start to open things up.

If you plan on keeping any doors open, you may want to make sure that they also have a screen that fits properly and that there are no holes or exposed cracks. Whether it is a sliding glass door or a front door, often times the winter can take its toll on screens if they were left in so as a part of your spring cleaning, inspect all of the screens in your home.

Piles of newspapers, cardboard or even clothing are likely to attract roaches and other pests. A general de-cluttering of each room in your home is a great way to remove possible hiding spaces.

Focus on storage spaces in your spring cleaning. Do you have clothing or decorations just sitting out in the open? These things are very susceptible to pest damages. Purchase large plastic bins with tight fitting lids to secure belongings so that rodents, insects, and even mold causing moisture cannot get in.

A deep clean for your kitchen. We're talking sides, underneath and behind all of your appliances. In time, there is a natural buildup of oil, food debris and crumbs. Even everyday cleaning cannot keep this from happening. So a deep clean of every nook and cranny in the kitchen will really help to eliminate food sources for foraging rodents, cockroaches and ants.
By following these spring cleaning tips, not only will your house be sparkling in the spring sunshine, but you will also have the peace of mind that as many pests wake up from their winter nap, they will not be getting into your home. If you have any questions about common household pests or if you have identified an infestation in your home, contact the PA pest control professionals at Moyer Indoor | Outdoor. With an integrated approach to our home pest control programs you can be sure that you are guarded from any bugs that may want to make your home their own this spring.