Souderton is a quaint town that is known for its charm and walkability. This small town holds a date night block party every third Friday from April through October. Locally owned small businesses roll out their fresh-made coffee and yummy food while residents enjoy varied entertainments. While enjoying these activities till the bitter end, residents will soon head indoors for shelter. An unwelcome pest that might join them is the local cricket.
Why Are Crickets In Souderton A Major Nuisance In Late Summer And Early Fall?
Crickets are most comfortable in warm weather when they eat dead plants, fungi, and sometimes other meaty insects. While the weather holds, they access the food and moisture they need and happily remain outdoors. During late summer and early fall, weather conditions change, prompting crickets to find alternate accommodations. If your home can provide shelter, warmth, food, and moisture, crickets are happy to hunker down and ride out the cold months with you. Even though they do not pose a health risk to people, crickets can be a nuisance.
Two ways crickets make a nuisance of themselves include:
Chirping: Male crickets create "chirping" sounds by rubbing their front wings together to serenade females. Repeated chirping can drive you crazy and send you all over the house trying to locate these critters to eliminate them. Chirping can also be a sign of more extensive infestations.
Chewing: Once inside, crickets will often chew on fabric; this means things like carpets and clothing are on their menu. Cotton, silk, wool, and synthetic materials are tasty, and perspiration-soaked fabrics make them feel like they are at an all-you-can-eat buffet!
A single cricket outside your window might seem soothing but once you have a family of crickets inside your home it's time to change your tune.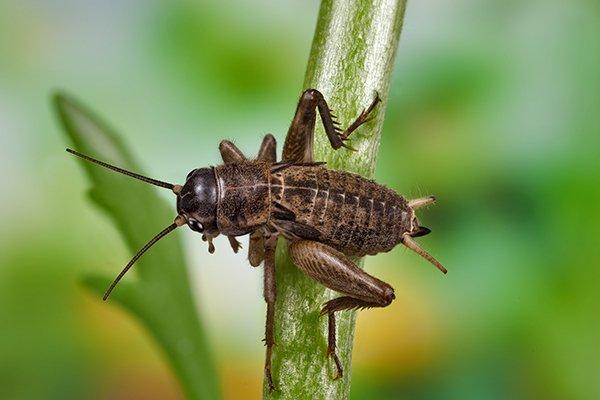 Steps Souderton Residents Can Take To Minimize Activity Around Their Property
Crickets are most happy when they are residing in dark, warm, moist areas. Because your home becomes quite attractive during the colder months, homeowners should put in place some preventative measures that can deter crickets from considering your home as a wintering haven.
Eight steps that help minimize cricket activity around your property include:
Use dehumidifiers to reduce moisture indoors.
Fix any drainage problems and leaks both inside and outside the property.
Mow grass around your property.
Ventilate basements and crawlspaces.
Use sodium vapor lamps and yellow bulbs for lighting around your property.
Use silicone-based caulking to seal/fill entry points and voids around the property.
Keep garbage cans away from your home.
Inside, use a vacuum to remove crickets and their eggs.
These steps will help minimize the risk of crickets moving in but they will likely not be enough to convince existing crickets to move out.
The Best Way To Fight Cricket Infestations In Souderton
No matter how vigilant homeowners are at pest-proofing their homes, these hoppers have a way of finding their way into your sanctuary. Crickets can be hard to catch and prove to be elusive because their small bodies can hide in cracks and crevices. The best way to stop them in their tracks is by using the ongoing pest management services offered by Moyer Pest Control. We provide affordable pest control programs that take a three-tiered level approach to manage pests.
Our residential three-tiered approach includes:
Exterior home guard plans cover common pest areas with a 100% pest-free guarantee.
Complete home guard plans cover indoor and outdoor areas with four treatments each year (seasonal).
Platinum home guard plans will upgrade our services with six visits a year and cover unique pest problems.
Whatever plan best fits your home we can keep crickets and other pests out of your home.
The Secret To Eliminating Crickets Is With Moyer Pest Control
Moyer Pest Control has been servicing homes and families since 1869. Our vast experience and commitment to excellence will help residents eliminate pest problems and prevent new issues from popping up. Let our experts set up a program that will alleviate your anxiety and inconvenience. Call Moyer Pest Control today for answers to all your pest problems.