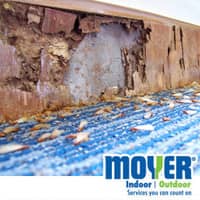 Termites continue to be a major pest threat for homes and businesses across the country. Leaving billions of dollars in structural damages along their path, these wood destroying insects are hard to catch before the damage has been done. Termites work from the inside out, which means your Pennsylvania home could be suffering from termite damages right now. To help homeowners keep an eye out for any signs of termite damages, the PA pest control experts at Moyer Indoor | Outdoor would like to share the common signs of termite damages.
Subterranean termites are the common species of termites to be found in the Pennsylvania area. This species in particular lives underground and will travel through mud tunnels to get to sources of wood to feed on. So unfortunately you will not likely see any termites out in the open. And to make matters even harder they will work from the inside out on wood structures so not until extreme damage has been will you likely see anything. But if you do notice any of the following damages to your home you very well may have a termite problem.
sagging windows or door frames

hollow sounding walls when you tap

buckling wood on floors

any cracks in wood

ceilings that appear to be drooping

small holes in wood which are used to push out termite waste
If you have noticed any of the signs of termite damages in your home in Montgomery county, Lehigh county or elsewhere in Pennsylvania, it is important to contact Moyer Indoor | Outdoor right away. One of our experts in termite control will be able to identify if you have a termite infestation and get rid of it at the source of the problem. Not only will you be termite free quickly but you will also be protected from future termite infestations and damages.