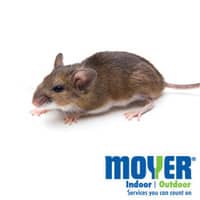 Fall is coming….and so are rodents. They know that the winter will soon be upon us, so they're planning ahead, looking for a place to escape the cool winter temperatures. You should be planning ahead too, so that you don't play host to these destructive pests. Weather proofing your home can help eliminate entry areas, but sometimes this prevention technique is not enough. Think you might already have rodents inside your PA home? Here are some signs of mice to watch out for to help you determine whether or not you have a mouse in the house.
How do you know if you have a mouse in your property? Here are the signs to look for!
Areas of chewed drywall, cardboard, clothing, or papers are signs of mice. Rodents have the need to continuously chew to keep their front incisors from getting too long. They also chew up your belongings create nests for themselves and their families.

Tiny little brown rice-shaped grains of mice feces are obvious signs of mice. These droppings can be found around food sources in your cupboards or just randomly in kitchen cabinets, drawers or even in the middle of the floor.

You may notice mice tracks along dusty surfaces; these tracks can include footprints or tail marks.

It is possible to recognize both wet and dry rodent urine under a black light; you may see these stains along areas where mice frequently travel or feed.

When mice travel along routes inside your home, they have a habit of rubbing their fur along walls, which can leave oil and dirt smears along areas they travel. These may be noticeable on beams, rafters, pipes, walls and other areas around your home.

Accumulations of wood shavings and insulation as well as other gnawed material may indicate an active infestation.

You may actually HEAR the mice climbing in your walls or running along upper surfaces of ceilings. You may hear shuffling in the walls, or even squeaking.

You may smell a mouse infestation as well. Often a characteristic musky odor is a positive sign that mice are present.
If you've seen, smelled or heard any of these signs, you could be in need of professional home pest control services. Most do-it-yourself rodent control solutions only eliminate the rodents that venture out of the nest; the best option for total rodent control is choosing Moyer exterminating services to do it for you. Our Complete Home Guard service plan consists of 3 exterior treatments along with a 4th visit for inspection, which includes preventative control for rodents and other cold weather pests. We will deliver any required interior treatments for pests that are covered in the service plan at no additional charge. Give us a call today to learn more about what our Service Professionals™ can do for you with rodent control, general pest control, termite control and pest prevention for your Pennsylvania home.