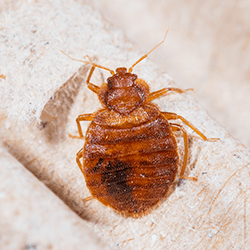 Bed bugs are sneaky pests. They don't scale your walls and infiltrate vulnerable entry points. They come in like the Trojans; sometimes, they're even hidden inside gifts, like the Trojan horse. Let's take a look at some of the ways bed bugs might sneak into your home, and explore a few of the ways you can stop them.
Bed bugs can come into your home:
In any piece of furniture. If you buy a used piece of furniture or pick one up from the side of the road, you could accidentally bring bed bugs into your home. Bed bugs don't just hide in beds. They will infest any piece of furniture in a home.

In electronics. Whether you buy used electronics or borrow something, you could introduce bed bugs into your home. These insects establish themselves in any hidden location, even inside televisions, computers, alarm clocks, and other electronics.

In clothing. If you buy something online, you could get bed bugs. The chances are quite low, but it has happened. This is because workers come into clothing outlets with bed bugs on them and those bed bugs lay eggs inside the clothing being packaged and shipped out.

On friends or family. If you have a friend or family member who has a bed bug infestation in their home, they could unwittingly spread those bugs to your home. This is because bed bug infestations take time to rear their ugly head. Bites often go unnoticed at first.

On your family. When college-age kids come home, they can bring bed bugs with them. When school-age kids come home from school, they can bring bed bugs with them. When you pick your kids up from daycare, you could be picking bed bugs up with them.

On you. When you travel, there is always the chance of picking up bed bugs during your travels.
While bed bugs are sneaky, they leave behind some obvious signs. These signs are how you can quickly detect a bed bug problem before it becomes a nightmare. Look for shed insect skins, tiny white eggs, brown or tan blood stains, black streaks, black patches, tiny black droppings, or the bed bugs themselves. You should also notice a foul smell as a bed bug infestation grows.
If you ever find signs of bed bugs in your home, contact a professional like Moyer Pest Control, one that has the QualityPro seal of excellence from the National Pest Management Association and industry-leading bed bug services like K9 bed bug inspectors.
If you're in our Pennsylvania service area, contact Moyer Pest Control for quick, professional resolution to bed bug issues.