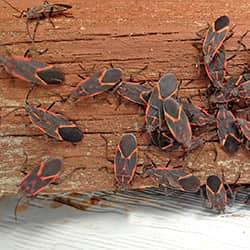 As we come to the end of summer, you are thrilled that you haven't found any dangerous, destructive, or disease-spreading pests in your New Castle home yet. However, many homeowners tend to overlook invasive nuisance pests because they don't seem to pose much of a threat. When you focus on the damage termites create, the diseases cockroaches spread, and the painful stings wasps leave behind, certain nuisance pests can slip under your radar and infest your home. Pests such as centipedes, clover mites, silverfish, boxelder bugs, and crickets can become incredibly bothersome in late summer and into early fall, especially if you've made mistakes this season that could attract them.
Silverfish, centipedes, clover mites, and several other nuisance insects are attracted to New Castle homes for many of the same reasons. If any of these pests have infested your property, there's a pretty good chance that several areas in or around your home retain a lot of moisture. Silverfish and centipedes, in particular, are often found in basements, under boxes, and around piping, while clover mites and boxelder bugs often congregate on the warm sunny side of your exterior walls.
Once these pests get inside your house, they can stain furniture, eat materials, and create frustrations for you and your family. The main difficulty with many of these nuisance pests is that they prefer to stay out of sight, which means you might not discover them on your property until after they have reproduced and deeply infested your home.
When it comes to managing pests such as crickets, clover mites, silverfish, and other common New Castle nuisance pests, understanding their habits can give you a general understanding of how to keep them out. Below are some steps you can take to avoid an infestation of these bothersome bugs.
Make sure to screen your vents appropriately.

If your property has a chimney, consider getting a cap for it.

Install door sweeps on all exterior doors.

Seal any gaps or crevices along your exterior walls and foundation.

Reduce moisture by repairing leaky pipes and installing a dehumidifier.

Ensure none of your window and door screens have rips or holes.
Nuisance pests can be a hassle to handle alone, especially after they have already infested your property. Skip the frustration and wasted time dealing with them by contacting Moyer Pest Control for all your pest problems. Keep your New Castle home pest free with Moyer's Home Guard Protection Programs!