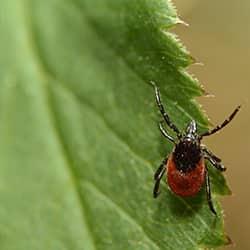 Summer is quickly coming to a close, and you probably have an extensive list of things to do before fall arrives. There's back to school shopping for the kids, end of the season barbecues, home repairs to get ready for winter… the list goes on. There is one other thing you should add to the list though—preparing for heavy late-summer tick activity in Souderton.
Why Ticks are a Problem in Souderton in Late Summer
Ticks are a problem for most of the year in Souderton. While you may get a brief reprieve from them in winter, once the weather begins to warm up, they become active again.
In spring, the adult ticks are eager to find a host after months of not eating, then they reproduce.
In early and mid-summer, the nymphs are the biggest concern. Since they're so tiny, they are difficult to see, even when they get on you.
In late summer and fall, there's an increase in adult ticks again as the nymphs have matured. These ticks are on the hunt for a host before months of inactivity. Although they're easier to see because of their slightly larger size, they can still be easy to miss, especially if they attach themselves to your scalp where your hair covers them or somewhere on your back where you can't see them.
How to Prepare for Heavy Late Summer Tick Activity in Souderton
Taking some prevention steps can help keep ticks off of you and your family members.
Keep your pets up-to-date on their flea and tick treatments.

Avoid the areas where ticks are most likely to be—wooded areas, along the edges of your lawn and the treeline, in leaf piles and lawn debris, etc.

If you are going to those areas, wear light-colored long pants and sleeves. Spray your clothing with DEET before going out.

Check yourself and your family members for ticks after being outside.

Get a tick treatment for your property from Moyer Pest Control.
If you spend a lot of time outside on your lawn and ticks are a concern, Moyer can help. While we can't eliminate every tick, we can significantly reduce their numbers around your property, which will reduce the chance of you or a family member ending up with a tick-borne illness.
Don't take chances! Contact Moyer and cross one item off your to-do list.