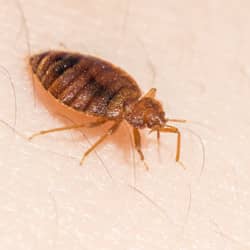 By now there is a good chance you've heard about bed bugs. It may have been a tragic story of an apartment complex or home burning to the ground because of a do-it-yourself heat treatment gone wrong. It may be that you know someone who had to deal with getting rid of these pests. However you have learned about them, it is important that you get the whole story, so you can avoid the many tragedies that have come about because of treating these bugs. You see, the reason so many people pick up bed bugs or wind up dealing with the tragic results of a DIY pest control treatment is that they don't understand where bed bugs live and hide.
Here is a list of places you would not expect to find bed bugs and why you should know about them.
Wall voids. This is the big one. Most people think that bed bugs only live in mattresses, after all, they have the word "bed" in their name. But bed bugs can nest in walls and also escape into walls when they feel threatened; which is why bed bugs seem to return out of nowhere after DIY treatments are done. They were never eradicated in the first place.

Electronics. We often think about bed bugs getting into bedding or laying their eggs in our clothes, but one place these pests really love to leave their eggs is inside electronics like laptop computers. This is an important fact to know. If you return from a trip where you know for sure you were exposed to bed bugs, not only should you wash and dry all your clothing on the hottest temperature, this should kill any bed bugs or eggs living inside.

Taxi cabs. If you think that you can only pick bed bugs up when you stay the night at a hotel, you might want to think again. Bed bug infestations have been found in all forms of public transportation, including taxi cabs. The reason for this is that bed bugs don't need humans to be asleep in order to feed. They are able to feed on us wherever we sit or lounge. So, the next time you're taking a trip in a cab at night, use the light on your phone to do an examination of the cab. If the infestation is bad enough, you may detect the smell of damp dirty towels.

Public venues. If you go to the library, you should know that bed bugs can get into those books while they are sitting next to someone's bedside. If you go to the movies, know that people bring bed bugs in when they come to watch the movies. Wherever you go, be aware what bed bugs look like and the signs they leave.
When bed bugs invade your home, it is time to call a professional. The team here at Moyer's pest control division know all the places these bugs hide and how to corral them so that no bugs escape during extermination. Get safe effective bed bug control with Moyer Indoor | Outdoor.