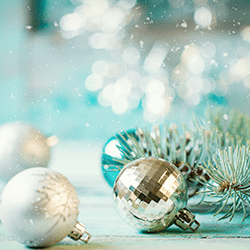 Christmas is the most wonderful time of the year, full of joy and love. We get to go to parties and spend time with friends and family. We get to do holiday baking, go Christmas shopping, and give out gifts. While all of the splendor of Christmas is upon us, we still have to get the Christmas decorations and the tree out of storage. Do you wonder what condition they will be in after sitting in storage for 11 months? How about the pests that have made claim to the boxes of decorations or have nestled in and made a comfy nest between the branches of the artificial tree? Alas, you must force yourself to go take a peek to see what's in those Christmas decoration boxes in the basement or attic.
Hopefully, your joyous Christmas preparation doesn't turn into a Christmas nightmare, where mice have taken up residency and are raising their young in the box with the tree. No one wants spiders delighting in the dark spaces of the ornament boxes and silverfish are enjoying the box of tablecloths, cloth napkins, and Christmas stockings. These uninvited pests are troublemakers that can cause health concerns, property damage, and unwanted stress. Wouldn't it be nice to avoid damage from mice that are chewing their way through your home? These same mice that are leaving urine and feces throughout your home, including your kitchen causing some serious health problems, like salmonella and the hantavirus. The spiders are creating unsightly webs, creeping around giving people a scare, not to mention how some people can be allergic to the bite of some spiders. Black widow spiders and brown recluse spiders are rare in Pennsylvania, but worth mentioning due to the more serious nature of their bites. Silverfish will feed on starchy or glue-like items, including wallpaper paste and book bindings. They are usually found in cool damp places, especially with linens. It's the fast creepy way they slink around that usually causes the most stress. With these and other storage pests, Christmas pests are unwanted inside your home and need to evacuate.
If you are a homeowner in Pennsylvania, and you want to protect your family and protect your home, you can get the help you need from Moyer Pest Control. We strive to help homeowners with their pest problems with programs designed to eliminate pests and prevent them from returning. Our Exterior Home Guard provides 4 services a year, every other month in season. Our services are 100% guaranteed and cost-effective. This particular service is done on the outside of your home and covers ants (including carpenter ants), centipedes, clover mites, crickets, earwigs, ground beetles, millipedes, pill/sow bugs, spiders, wasp & yellow jacket nests. Complete Home Guard provides 4 quarterly services per year and a 100% guarantee. Treatments are tailor-made utilizing integrated pest management. It covers all of the pests from the Exterior Home Guard plus cockroaches, fleas, food infesting insects, mice, rats, and silverfish. Platinum Home Guard includes termites, mosquitoes and stink bugs, with 6 scheduled services that target the active pests of each season. This service is done on the outside but will include the inside if necessary. It covers all the pests covered in the Complete Home Guard plan, plus termites, voles, springtails, and cicada killers. Give us a call today at Moyer for more information regarding our residential pest control programs. We are here to help so that you can have a pest free Christmas.