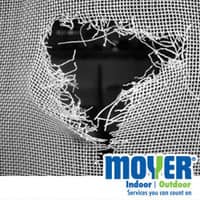 The summer, like all seasons, brings a whole new onslaught of pests for which to be on the lookout. Just as you prepared your home to avoid pests spending the winter inside, now is the time to prepare your home and property to avoid summer pests. The most common invaders during the summer in Pennsylvania include ants, stinging insects, mosquitoes, fleas, and ticks. All of these pests pose threats to you, your family, and your home, which is why it is important to learn all the tricks to pest proof your PA home for the summer.
Inside summer pest proofing tips:
Secure all windows with screens that contain no holes or tears. An open window is the easiest way for flying insects to come inside.

Take the trash out regularly and keep it stored in bins with lids so it does not attract pests.

Wipe up spills and crumbs right away before they become ant food.

Keep all open food stored in containers with tight fitting lids.
Outside summer pest proofing tips:
Clear the yard of any wood, such as sticks and fallen tree branches.

Redirect water so that it does not flow onto your property and create a damp surface and attract any carpenter ants or termites to nest in the wood or underground in the soil.

Fill in or dump out any stagnant water, which is where mosquitoes are likely to breed.

Cut back bushes and shrubs so they do not touch the side of your home and create a 'bridge' for pests.

Keep grass mowed regularly to avoid ticks from hiding in the tall grass.
Even if you are careful to follow all of the inside and outside pest proofing tips, sometimes pests are still able to get into your property and cause problems. Prevention alone may not be enough to battle the bugs and insects in Allentown, Souderton, and throughout Pennsylvania this summer. But no need to worry, because Moyer Indoor | Outdoor offers effective home pest control solutions no matter what the pest and no matter how severe the problem. To learn about which treatment option or which preventative treatment is best suited for your home and property, please contact us today!