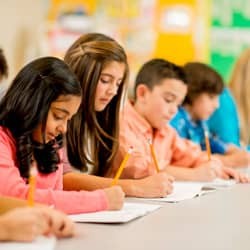 In the war against bed bugs, Pennsylvania schools are finding themselves on the frontline. This is because bed bugs aren't a bug that crawls across school grounds and squeezes in through exterior walls, they come in on students. And leave on students. If you just gasped when you read that, we understand. This is a startling thought. For most of us, we think of bed bugs as those disgusting bugs that can attack us when we stay in a motel or hotel. But bed bug infestations have been on an alarming rise since their resurgence a little over a decade ago, and their favorite place to infest is residential homes.
When bed bugs get into a home, there are many ways these hitchhiking bugs can spread to other homes. They can climb into kids belongings and lay their eggs on clothing when kids have sleepovers. They can leave with moms and dads when they head off to work, and find their way home with other moms and dads. They can be picked up by friends and family when they visit. They can get into the binder of books lying on a bedside table, and go to the library when books are returned. Schools are only one of many public places bed bugs hop from one family to another.
Controlling this hop from family to family is harder than you might think. Bed bugs don't just infest the homes of dirty people. They have been found infesting the cleanest and wealthiest of homes. These bugs aren't attracted to filth. They are attracted to blood. Any home that allows them a blood meal is perfect for these bugs. So, when students come to school, it isn't an easy matter of knowing which students are carrying these bugs.
Protecting our schools and our homes requires an increase in awareness and proactive bed bug protocols. Parents and students should educate themselves on identification of bed bugs and verse themselves on the many signs these bugs provide. School staff and faculty should be trained to identify bed bugs and have a plan for dealing with sightings in a way that doesn't alarm parents.
At Moyer Pest Control, we use non-invasive K9 bed bug inspections to proactively prevent infestations from beginning, and train businesses and municipalities in effective bed bug detection and response. When infestations occur in schools, homes, or businesses, our team has the most advanced equipment and education to arrest infestations quickly and discreetly.