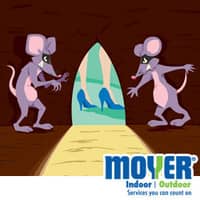 Worried about home invaders? Maybe you should consider a home security system! The pros at Moyer Indoor | Outdoor offer exceptional security systems that help protect against burglaries and home invasions and can give you peace of mind that your home is protected. But while a home security system helps with keeping your family safe from environmental dangers and human invaders, it won't protect you from pest invaders.
Pest invaders, including rodents, cockroaches, flies, ants, termites and even bed bugs can find their way into your home and make themselves comfortable. Getting rid of these pests can be a real challenge, but the best way to make sure you don't have a pest problem is to eliminate the conditions that are allowing them in in the first place.
So how are pests getting into your home?
They may enter through cracks and crevices in the exterior of the structure. Holes in foundations, gaps in siding and tiny crevices around where utility pipes and wires enter the home are all possible entry points for insects, arachnids and rodents.

If tree branches or shrubs are touching the side of your home, pests may use these as a 'bridge' to get to your home.

Pests like earwigs may enter your home when accidentally brought in on items that are left outdoors. They can come in on your daily paper, children's toys or other items left outside overnight.

Bed bugs can be brought in unknowingly on clothing and belongings.
Why are pests attracted to your home?
When food is left out on countertops and crumbs and spills are not cleaned up, pests will be attracted to your home. Food can attract flies, ants and rodents and other pests, so cleaning these up is a must.

Piles of debris and wood piles can act as great hiding places for pests like rodents and spiders. If you have these piles near your home, you should either remove them or move them further away from your home to limit the number of pests attracted to the exterior of your home.

Areas of high moisture can also attract pests, including silverfish. Remedy this by using a dehumidifier in bathrooms and basements as well as any other humid areas of the home.
To protect your home from home pest invaders, it would be wise to contact the pros at Moyer Indoor | Outdoor. Our Pennsylvania exterminators have a great deal of experience with pests and can help eliminate the pests and the conditions that may attract them. For home pest control you can trust, the professionals at Moyer can help. Contact us today to learn more about our pest control solutions in Souderton, Telford, Hatfield, Lansdale and surrounding areas!