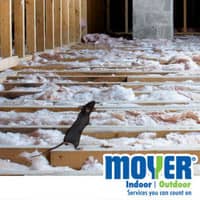 The winter months bring with them a lot of fun snow activities, holiday celebrations and cozy nights inside. Unfortunately, winter is also associated with bad weather, increased heating bills and pests that mistake your attic for a Motel 6. Pests like to find warm, dry, secluded areas to stay in over the winter, and attic spaces provide them with the perfect shelter. Often attics are used as a storage space and may not be entered into very often; and the items that people store in attics like furniture, boxes and books act as perfect spots for the pests to hide in or to use to create nests. Attics are usually insulated and therefore stay warm and provide materials for pests to burrow into.

Common pests found in Pennsylvania that are likely to use attics as an overwintering area are insects like stink bugs, and rodent such as mice and rats. The problem with these pests is not only are they uninvited and a nuisance but they are definitely not good houseguests. They can cause a lot of structural damage and introduce serious health risks into your home that can be passed to you and your family. Entering and exiting attics is usually an easy process for them, they can enter to the outside or travel behind your walls to find their way to your kitchen and bathrooms to gain access to food and water sources. In doing this pests are apt to:


Contaminate areas with urine and feces

Create fire hazards with their constant gnawing on electrical wires

Cause damage to pipes resulting in water damage and mold issues

Destroy insulation with their nesting, urine and rodent droppings

We're pretty sure homeowners in Souderton, and Allentown as well as elsewhere in Pennsylvania do not want to deal with pests anytime of the year, but especially not during the cold winter months or the holiday season. That's why the PA pest control pros at Moyer are ready to help!

If you suspect or know that you have unwanted guests living in your attic that need to be evicted, contact Moyer Indoor | Outdoor. We are a trusted Pennsylvania pest control company that understands the needs of homeowners in our region. Our home pest control services allow you to choose a program that suits your home and property's specific needs. We will act quickly and our trained professionals will be able to eliminate your current attic pest problem and put into place a plan to prevent future infestations from occurring. Contact us today for more detailed information on how we can help keep your attic and home pest free this winter!