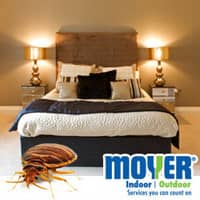 With the hundreds of pages on the Internet regarding bed bugs as well as the word of mouth, news stories and other media sources, it is no wonder that you may be overwhelmed when the topic of bed bugs arises. How do you get them? Where do they come from? How do you get rid of bed bugs? These are all common questions and our team of pest control experts at Moyer Indoor | Outdoor wanted to make sure that you got only the facts when it comes to bed bugs.
We are here to deliver the top bed bug myths and the truth behind them. So the next time you are checking into a hotel or find a bed bug in your home, you'll know exactly what to do and what not to do.
Myth #1 - A bed bug infestation means your home or business are dirty.
While it's easier for bed bugs to go unnoticed in a home or business full of clutter and debris, bed bug infestations and cleanliness or lack thereof are not related. All bed bugs care about is a meal from human blood and whether that is found at the Ritz Carlton or the economy hotel down the road does not matter.
Myth #2 - I have to get rid of my bed to get rid of bed bugs.
Their name can be quite deceiving. The only thing that draws bed bugs to the bed is you! During the day bed bugs will hide in mattresses but they will also seek dark, secluded areas of the room like the nightstand, under carpet, in upholstered furniture, along the baseboards and even in electrical outlets. Simply tossing out the bed will not eliminate your bed bug problem. A professional bed bug treatment is essential to really get rid of bed bugs.
Myth #3 - I can't get bed bugs because I haven't traveled.
Unfortunately catching cab ride or taking a trip to the local movie theater could expose you to bed bugs just as much as a trip across country or overseas. These parasitic insects have really embedded themselves far and wide which is why K9 bed bug services are great to help detect bed bug problems early on and allow for quicker, more targeted bed bug control.
To learn more about bed bug exterminating services in Souderton, Allentown or elsewhere in Moyer's pest control service area, please give us a shout today! We are here to get rid of bed bugs that currently inhabit your home or business and also to prevent future infestations from arising. Contact us today to learn more!