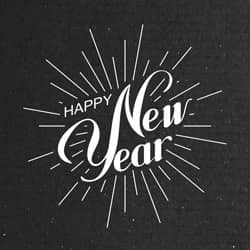 In West Chester, PA, probably not too many folks are familiar with this English New Year's tradition. The English custom for welcoming in the New Year is full of warmth and hospitality. They believe that the first guest to their home would bring them good fortune. This first guest should be a male, he should enter through the front door, and he should bring traditional gifts such as loaf for the kitchen, drink for the head of the family, and coal to light the fire. If he does not bring things such as these, he is not allowed in.
In America, there are different traditions. Typically it doesn't matter who the first guest through the door might be. Still it's always nice if the guest is bearing gifts. However, it is not so nice if they happen to be bearing unwanted gifts, gifts even they aren't aware of, such as bed bugs, or cockroach eggs. Bed bugs are a hitchhiking bug and can be brought in on clothing or luggage. And cockroach eggs do not require the mother to hatch. These are definitely gifts you do not want to be brought into your home!
Things you can do to keep unwanted guests out:
Keep your home clean. Pay close attention to places where food is prepared and stored.

Store food items inside the refrigerator or in sealed plastic containers.

Put pet food down only at meal times, and store food in sealed containers.

Put dirty dishes in a sink full of soapy water if you can't wash them right away.

Clean out drawers and cabinets, making sure they are free of food debris

Keep your yard clutter free.

Trim trees and bushes back away from your home. Pests can use leaves and branches as bridges to climb onto your home.

Repair or replace broken screens and door sweeps.

Seal up any gaps or cracks in your foundation, walls, or roof area using a caulking gun.
The absolute BEST thing you can do to keep unwanted guests out is to contact the professionals here at Moyer Indoor | Outdoor and let us protect your home from pests.
If you want to be certain that you are pest-free as you welcome in the New Year, give us a call. For the low price of $25/month, we can provide our exterior home guard. This includes a 100% satisfaction guarantee, cost-effective treatments, and no charge for service treating covered pests in between scheduled visits. Keep unwanted guests out of your West Chester, Pennsylvania home. Let us handle your pest control needs so that you can welcome in a pest-free New year.
Happy New Year to you and your family, from the folks here at Moyer Indoor | Outdoor.