Waking up in the middle of the night to find itchy bites scattered across your skin is never a pleasant experience. Unfortunately, many homeowners find themselves in that scenario when bed bugs invade their New Castle property. Bed bugs are small, reddish-brown insects with flat bodies that resemble apple seeds.
If you're interested in learning more about bed bugs and how to identify them in your home, keep reading. Or, contact the licensed professionals here at Moyer Pest control for the most effective pest control in New Castle!
Easy-To-Spot Signs Of A Bed Bug Infestation In Your Home
Bed bugs are small insects, which means they're capable of hiding in your New Castle home without your knowledge. With this in mind, how do you check for bed bugs when you can't see them? These sneaky pests are hard to identify, but they leave a few signs of their presence behind when they invade. Here is a helpful guide to show you how to identify bed bugs on your residential property:
Pay attention to dark-colored spots on your sheets and clothing. Bed bug droppings are an indicator of a bed bug infestation.
Check your skin for itchy red bites. Bed bugs bite in a pattern of clusters or rows.
Keep an eye out for bloodstains on your mattress, clothes, and pillowcases. Bloodstains are often left behind after bed bugs finish feeding.
Pay attention to the smell in your home. If you notice an unpleasant musty odor that grows stronger with time, it may indicate a severe bed bug infestation.
The best way to handle bed bugs is with effective treatments from a trusted local pest control provider. At Moyer Pest Control, it's our top priority to protect your home and family from pests of all shapes and sizes. Get in touch today for more information about our bed bug treatment options.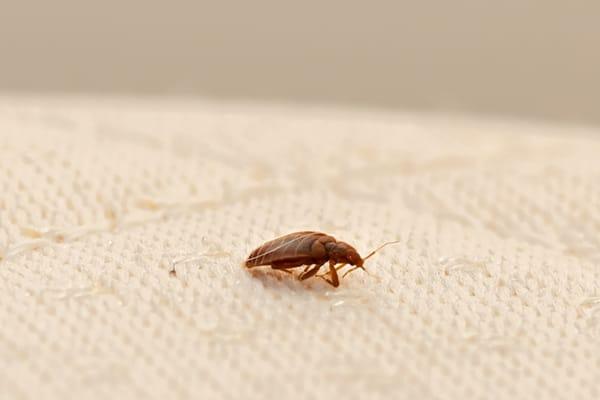 Bed Bug Infestations Only Get Worse With Time
If you see a few bed bugs in your home, you should always address that problem right away. Although bed bugs don't mate and lay eggs as quickly as some other pests, they reproduce quicker than most homeowners can handle. Given the right conditions, a bed bug can go from an egg to an adult in as little as five weeks. In colder, less favorable conditions, the life cycle of a bed bug can take as long as four to six months. Female bed bugs can lay eggs about six weeks after hatching. As each newly hatched female bed bug produces eggs, controlling your bed bug infestation becomes more challenging.
Why Do-It-Yourself Bed Bug Control Usually Fails
When bed bugs take over your New Castle home, it's tempting to try and find solutions on your own. However, many do-it-yourself (DIY) resources aren't effective against bed bugs. Whether you're attempting to vacuum up bed bugs or apply insecticides around your home, nothing is a replacement for professional bed bug control.
Moyer Pest Control provides top-of-the-line pest control services for residential and commercial property owners. Our trained pest technicians know how to find bed bugs and where they're hiding and apply effective treatments to eliminate them. Don't waste time and money on DIY solutions that won't get rid of bed bugs. Instead, turn to Moyer Pest Control for all your bed bug control needs.
How Professional Bed Bug Control Eliminates Bed Bug Infestations
If you're looking for bed bug treatment options that work, you can't go wrong with help from the experienced pest control experts here at Moyer Pest Control. We perform thorough bed bug inspections with our highly-trained K-9 inspection unit to verify the presence of bed bugs in your home with a 98% accuracy rate. Based on our findings during the inspection, we'll work with you to develop the right treatment plan for your New Castle property.
Don't hesitate to contact Moyer Pest Control today to schedule your first service visit.