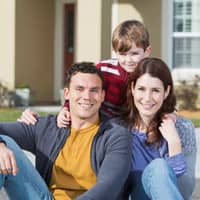 Is your Google calendar chock full of appointments, dentist visits, school schedules, soccer practices and games? Are you struggling to find the time to fit in the laundry, cook for your family, and clean after working 40+ hours a week? And have you just discovered ants in the kitchen or discovered another pest problem elsewhere in your home that needs taking care of? Don't worry we can help!
Here at Moyer Indoor | Outdoor, our pest control professionals are ready to tackle pests that have invaded your home so you can focus your energy on running your home and caring for your family.
What about the price, you might be asking? We understand your concern; after all being a homeowner isn't cheap. That's why we offer three levels of home pest protection; you can choose the coverage that best suits your home and your budget. Here's a quick overview of our residential services:
Exterior Home Guard
Starting as low as $25 per month, this program includes four services per year and focuses on the exterior of the house since that's where a majority of the pests enter after all. Treatment is 100% guaranteed for nuisance ants, carpenter ants, centipedes, clover mites, crickets, earwigs, ground beetles, millipedes, pill/sow bugs, spiders, wasps, and yellow jackets.
Complete Home Guard
Starting as low as $35 per month, this home pest control program includes four quarterly services - three focused on the exterior and one on the interior. The Complete Home Guard program covers the same pests as the Exterior Home Guard PLUS roaches, fleas, silverfish, food-infesting insects, mice, and rats. Also 100% guaranteed for covered pests, we do not charge for service treating covered insects and rodents between visits.
Platinum Home Guard
Starting at $50 per month and offering the best value, this program includes six services - one every other month. This plan treats all the pests covered in the Complete Home Guard PLUS targeted service for termites**, voles, springtails, and cicada killers. It also includes treatment, reduction and prevention for stink bugs and box elder bugs as well as mosquito and tick control.
When you contact Moyer for relief from pests, you have nothing to lose except pests and that's a good thing. So what are you waiting for? Give us a call to learn more about the programs including any restrictions that may apply.
Still not sure? We understand. You don't want to just let anybody in your home. You can trust our team of pest control professionals. Established in 1869, we have the expertise to tackle any pest and a longstanding tradition of impeccable service and customer satisfaction. Don't take our word for it though; check out what a few customers had to say on Angie's List.
''Found flying ants in my living room. They were coming from outside my window. There were probably 1,000 of them. Young man came on time and went to work. He assured me they would be gone and they were.'' Rosemarie O.
''We use Moyer Indoor outdoor for pest control every three months. We have a contract with them where they come out and perform treatments. All the representatives are friendly, very polite, very efficient, and courteous. It's a pleasure to deal with them. They are very thorough. I haven't had any problems with them.''
Serving Allentown, Souderton and many communities throughout Pennsylvania, contact Moyer today to learn more about our home pest control services or to schedule service!