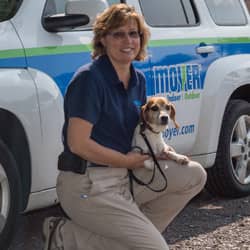 Are you finding red, rashy welts on your skin or, worse, your child's skin? Have you noticed blood stains or insect casings in your bed? Have you pulled up the edges of your sheets and found hundreds of bugs congregating on the corners of your mattress? If you have, and you live in West Chester, PA, you'll be glad to know that K9 bed bug inspectors are now available.
Bed bugs are a misery. But do you know what is more miserable than getting bitten by bed bugs? Trying to eradicate bed bugs!
Bed bugs are resilient invaders. Once they hitchhike into your home, they have many traits that help them survive and elude detection.
These pests can hide deep in walls and quickly get away from products like insecticide bombs and foggers. So, not only are these products dangerous to family members and pets, they are usually ineffective.

There are many products on the market for killing bed bugs, but they don't address the heart of the infestation.

There are products that can be put on the floor to kill bed bugs, but these insects are equipped with a threat avoidance instinct that will have those bugs choosing new routes to get to you or your family, and it can drive them deep into the walls of the home.

Bed bugs are able to go for long periods without eating, so if you have managed to force them to hide, the bites may stop for a time, but you can never know for sure that the bugs are gone.
Since bed bugs can hide deep in walls and many places other than mattresses, it can be hard to locate them, even for a trained professional; and trained technicians must disturb items in a room in order to find the bugs.
K9 inspectors can move quickly through rooms using their noses as a sort of x-ray machine to find bed bugs. They can smell bed bugs through fabrics, walls, curtains, and more. This allows pest control technicians to know exactly where the infestation is without disturbing anything, and those bugs won't get spooked and hide before they can be treated. It also makes it easier to control smaller infestations with focused and discrete measures.
If you live in West Chester, Moyer Pest Control has K9 bed bug inspectors available to find those bugs and, most importantly, make sure they are all gone. That will have you sleeping a lot easier once the pest technicians have left.
You don't have to live with bed bugs. West Chester, PA has K9 bed bug inspectors. See what a difference bed bug sniffing dogs can make. Reach out to us today for immediate assistance.