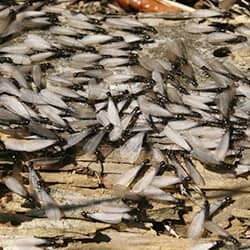 Now, just in case you are wondering, "What is termite season?" Let us tell you what it is not. It is not a season, like hunting season, where you are only allowed to kill termites for a certain number of days during the year. No, that would be ridiculous. Since termites are "allowed" to eat away at our homes and other structures all day, every day, all year long, we certainly are allowed to fight back every day, all year long, as well. What we mean by "termite season" is that this is the time of year when termite colonies send out winged reproductives or swarmers in order to establish new colonies.
What Are Termite Swarmers?
If you are seeing lots of flying insects that look like they may be winged ants, crawling around on the outside of your home, you may need to be concerned. If you are seeing them inside your home, you should definitely be concerned! Whether they are actually flying ants, or termite swarmers, when they are inside, this is an indication that you already have an infestation eating away at the insides of your walls. While carpenter ants are bad, termites are worse. One simple way to tell if you have ants or termites is that termite wings stack on top of each other, making them look like one big, white wing. Termite swarmers only appear a couple of times a year and only for around a half an hour each time, so they are easily missed. However, you may be aware of their presence if you see their discarded wings on window sills or other areas.
Damages Termites Cause
If you have termites eating away at your home, it is very possible that you will see no noticeable signs at all. But, if you happen to do a renovation, or perhaps remove a stump from your yard, the damage will be very clear. Termite damage has been described as having a look like stacked cardboard, with long carved out grooves stacked upon each other. Wood eaten by termites becomes brittle and hollow and will have a tattered look. Termites left untreated in a home will eventually cause walls to bulge, floors and ceilings to sink, and doors and windows to cease working properly.
Stop Termites Now
Whether you need to stop a current infestation or want to stop one from occurring in the first place, the professional pest control technicians here at Moyer Pest Control are standing by to help. Termite season may actually be all year long, but now is the time to stop those swarmers from starting new colonies.