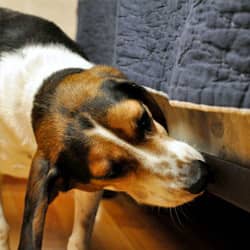 Worldwide bed bug populations are increasing, and experts believe it could be linked to their ability to create a thick skin. While a thick skin can help humans deal with criticism better, it does something entirely different for bed bugs.
A study published in PLOS ONE by researchers from the University of Sydney indicates that bed bugs can develop a thicker skin in order to be more resistant to insecticides. It's true! Research shows that bed bugs are becoming increasingly more resistant to insecticides due to an ability to thicken their cuticle. This resistance is making it harder to kill these pests and making it easier for bugs to escape into walls. And, since this is a bug that can go for more than a year without eating, this is a bug that can wait for the chemicals to break down, and the threat to disappear.
Here are 3 ways Moyer uses K9 Bed Bug Inspectors to fight these resilient pests:
As bed bugs become more resistant to insecticides, it becomes more necessary to make sure those insecticides go directly on infested areas. Dogs have a powerful sense of smell that can detect bed bugs, even before they hatch from their eggs. With their help, our certified technicians are able to pinpoint infested areas and allow our team to directly treat those areas with a wide variety of tools, many of which don't require the application of insecticide at all. However, if insecticide is needed, we know that we're getting right to where it needs to be.

K9 bed bug inspectors help our team corral these pests. If bed bugs are infesting items in a room and the walls are clear of bed bugs, we are able to isolate and eradicate them in a way that prevents them from escaping into the walls.

After the application of insecticides, K9 bed bug inspectors allow us to determine if any living bed bugs still exist in the structure. You won't have to wonder if bed bugs are waiting in your walls to feed on you another day.
While there is a debate on how resistant this pest will become to the insecticides pest control companies utilize or whether or not they will eventually become immune altogether, there is one thing we know for sure, bed bug dogs are a vital tool in finding them and exterminating them.
If you discover bed bugs, you can trust Moyer Pest to eradicate them. We've been protecting homes and business since 1869. And, although that isn't quite as long as these pests have been around, it is long enough for our team to learn all that is necessary to get rid of them now, and in the future.