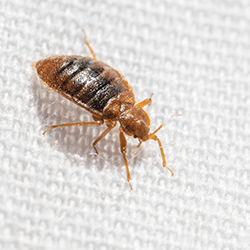 Many people breathe a sigh of relief when they know that the cooler weather of fall is right around the corner. Not just because the fall weather and season means apple picking, pumpkin carving, corn mazes and cardigans, but because many of the pests that we have been fighting a war against all summer long are finally retreating, and many of their populations are becoming almost non-existent. But, just like anything in life if it sounds too good to be true, it probably isn't; while it is true that some pests retreat to find overwintering spots in the fall, many remain a threat no matter what the season, no matter what the weather; one example being the dreaded bed bug.
That's right, unfortunately, bed bugs never seem to leave our sides; they are always out and about looking to feed on our blood as we sleep. The main reason colder weather does little to nothing to minimize their populations is that they are an indoor pest, a pest that enjoys all the benefits that the consistent temperature of indoor living affords them! In addition to being problematic because they live inside, another fact about bed bugs that makes them so invasive and difficult to control is their ability to live anywhere; a airplane seat, a spotless home, a library, a cluttered apartment, a dirty dorm room, an upscale retail store, or the sticky seats of a movie theater. So not only do these pests thrive indoors, but they basically can thrive in any indoor environment!
To help protect your home and family from bed bugs, everyone should know how to identify an infestation in its early stages. This will allow you to quickly get the professional help that is needed to eradicate these indoor living, nocturnal, blood-feeding pests completely from your home. Adult bed bugs grow to between 1/4 and 3/8th of an inch in length, before feeding they have a flat oval body and are reddish-brown in color. Bed bugs have six legs and are wingless. After feeding they will turn a more reddish-purple color and become elongated in shape. If bed bugs are present in your home they are most likely going to be found in the following place:
Underneath of box springs, mattresses

In the seams, folds and buttons found on mattresses

In cracks found in the walls or wooden furniture like dressers, headboards, footboards and desks

Behind wallpaper, clocks, outlets and pictures

In cracks found in wood floors and under the edge of carpet
Along with finding actual bed bugs, if bed bugs are present in your home you will most likely start to find small dots of blood or dark smears on sheets, bedspreads and pillowcases. Bed bugs often drip blood when they feed and the dark spots are excrement, which since they only feed on blood, is basically just dried blood. Also, in the case of a large infestation, you may notice a sickly sweet odor in your home.
If at any time during the year these pests find your indoor space to reside in, the professionals at Moyer Pest Control can provide you with the services you need to completely eradicate these pests from your home. Our bed bug control services include a thorough inspection of your property to pinpoint the infestation, followed by the development of a treatment plan that is specific to your unique property. To learn more about our highly effective bed bug heat treatments or to schedule a bed bug inspection for your home, give Moyer Pest Control a call today!