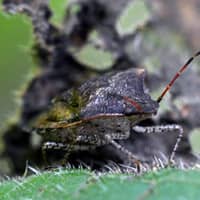 The stink bug? So what exactly is the stink bug, you ask? The stink bug, technically called the brown marmorated stink bug, is a little pest that was actually introduced into the U.S. in 1998. They came from the Orient accidentally and have thrived here because they have no natural predators. These are small insects, slightly under an inch, with a shield shaped body and brown shading. And you're likely to see them more and more of them in the coming weeks.
So why exactly are you seeing so many of these pests gathering on the side of your home? Well, that's easy to answer. These bugs gather between September and October in order to find wintering sites. That's right! They want to find a way inside your home to spend the winter. While these pests are more harmful to agricultural interests such as: fruit, vegetables, other farm crops, and ornamental gardens; they are generally just a nuisance inside your house. Besides the rotten cucumber smell they omit, they can cause contact dermatitis if their 'oils' come into contact with your skin. They have also been linked to allergic reaction such as rhinitis and conjunctivitis. While no major illnesses have been reported from contact with stink bugs, they do gather in large numbers; and once they find their way into your house it is hard to get rid of them without professional intervention.
Preventative measures need to be taken now in order to avoid spending the winter with stink bugs. Some of these include:
Repair or replace screens on doors and windows

Fix cracks around windows and doors

Caulk doors and around pipes and utility entrances with silicone or latex caulking

Do not leave doors open without the use of a screen
Alone, these prevention tips don't eliminate your chance of encountering stink bugs inside. They are very tricky little bugs that can squeeze into very small holes and cracks. Once inside, you will find them emerging in large numbers from behind baseboards, window trim, door trim, exhaust fans, ceiling fans, and light fixtures. Not exactly the "Currier and Ives" winter you have dreamed about!
The best thing to do when you find stink bugs accumulating around your home is to call a PA pest control company like the experts here at Moyer Indoor | Outdoor. With offices located in Souderton and West Chester and serving many Pennsylvania counties, we have been handling pest crises for over 140 years and are dedicated to serving property owners with quality, integrity, and top-notch customer service. We use environmentally safe products and the most recent technology in our stink bug control services and to eliminate other pests that are bugging you. So when stink bugs gather on the side of your house, contact Moyer. After all, with Moyer on your side, pests should be the last thing on your mind!