Your home is not the only place that you need to protect from pests! Shield your business from unwanted guests. Moyer Pest Control can ensure that your Souderton business is guarded against pests of all kinds so that you can focus on what truly matters: operating your business.
Businesses Moyer Pest Control Serves
Moyer Pest Control Services is open to providing expert-level care for any type of business. Your Souderton-based location is safe indoors and out, with a full inspection. With just one quick phone call or contact via our online form, Moyer services can begin to serve your business.
Pests can be unwanted guests in any business. Moyer Pest Control Services offers care for a wide variety of locations. We offer customized commercial pest control plans for businesses of all types. Whether you run a small retail shop or manage a large warehouse, we have the solution for you. Here are some of the spaces we service:
Property Management: We will ensure that all the spaces you manage remain free of unwanted pests all year long.
Food Processing: Food processing facilities attract pests and need to be clean to meet quality standards.
Health Care: A sanitary environment is essential for the well-being of your patients.
Hospitality: Your reputation is everything in the hospitality industry. We can help keep your space clean and your guests safe.
Restaurants: When running a restaurant, guests often post online, and a review mentioning unwanted pests can be detrimental to your reputation.
Warehousing: We services businesses, large or small, including warehouses.
And more!
No matter your business, Moyer Pest Control Services is here, ready to help rid the space of dangerous pests.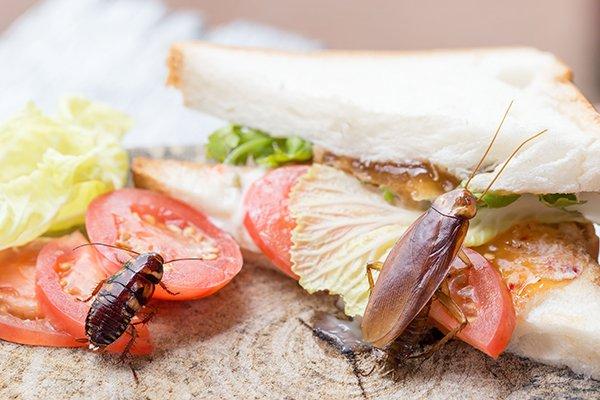 Pests That Plague Businesses and the Problems They Cause
Any number of pests can wreak havoc on your Souderton business. Moyer Pest Control Services specializes in any number of problematic pests, such as ants, flies, cockroaches, mosquitoes, termites, rodents, birds, and bed bugs. We also offer specialty services. If there is a pest that plagues you, reach out to us to find out how we can help!
With a vast number of pests comes a myriad of challenges. Moyer Pest Control Services is prepared to handle these unique problems. Pests can quickly ruin the reputation of any business.
Pests can cause lessors to vacate spaces. Vacant spaces in retail or residential businesses can cost owners thousands of dollars per year.
One "fly in the soup" incident can spread like wildfire online, swiftly shuttering any restaurant's doors.
Being proactive about your pest control for your business is the best place to start. Any healthcare or foodservice industry is subject to routine inspections. Any negative report can not only mean bad press but also forced closures or fines.
In addition, pests can bring disease, endangering your employees and customers alike. Rodents can also damage products, packaging, or facilities, costing thousands of dollars in damage.
The good news is that Moyer Pest Control can prevent these costly and dangerous problems with a recurring pest control plan.
Safeguarding Your Souderton Business From Pests
In order to save you time, money, and headaches down the road, it is best to be proactive with your pest control. Contacting Moyer Pest Control Services can allow our experts to conduct a thorough investigation of your business, both inside and outside, to prevent pests from ever coming into contact with your business.
Our programs are as unique as your business. We offer services and treatment plans that can fit any business' needs.
Don't wait until you see evidence of pests, or worse: receive a customer or tenant complaint. Call Moyer Pest Control Services today to ensure your business remains clear and secure from pests. Do-it-yourself pest control can be costly, dangerous, and counterproductive to your daily business operations. In the end, it's best to partner with a professional.
Save time and money ahead of time, and get ahead of those pests. Keep your Souderton business safe with a proactive and complete program with Moyer Pest Control Services.
Ease The Burden of Business Operations With Comprehensive Pest Control
You have enough on your plate. As a business owner, you have an endless list of duties, from payroll to hiring, maintenance to ordering. The work is never-ending. But, luckily, there is one duty that you can cross off that list: pest control.
By contacting Moyer Pest Control Services today, you can rest easy in knowing that our experts will handle all of your pest control problems. We will tailor a treatment plan to your exact needs, ensuring ongoing safety and protection from pests of all kinds. We not only remove unwanted pests, but we also implement measures to keep them out for good.
Moyer Pest Control Services is just a phone call away. Don't put it off. Don't wait until these pests cost you thousands of dollars, ruin your business' reputation, or worse, close your doors for good.
Moyer Pest Control Services include emergency and after-hour care, comprehensive treatment plans, Saturday hours, and uniquely tailored service for any sized business. We hold our services and our employees to the highest standards.
There is no time like today to protect your business. Reach out to Moyer Pest Control to learn more about our recurring commercial pest control offerings.