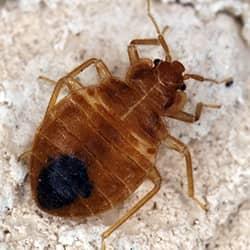 As the holiday season comes closer, many people are beginning to travel away from home. Whether it be to visit family members or just to experience the holiday season away from everyday life, Thanksgiving is a holiday of relaxation and good food. For bed bugs, however, your blood is the good food that Thanksgiving brings—because more traveling people means more opportunities to feast and spread to new locations.
When you are traveling across the country to visit relatives or friends this season, being aware of bed bugs during your trip is probably the last thing on your mind. However, keeping an eye out for these tiny bloodsuckers might be the best thing you can do to protect your home and your relatives' homes from becoming infested. These small reddish-brown insects have made a comeback over recent decades, spreading across America by hitching rides on our clothing, belongings, and luggage as we travel from place to place. Often the most common areas bed bugs reside are in public areas or locations where many people travel to and from. One such location is hotels.
With every long trip usually comes at least one stay at a hotel before the destination has been reached. Many people do not think to check their room for signs of bed bugs. This gives bed bugs the opportunity to crawl into luggage, clothing, etc. before we head out the next morning. Once you've left an infested hotel, there's a good chance that you didn't leave that hotel alone.
There are a few things you can look for and do when staying at hotels, motels, or even friends' and family members' homes.
Searching for adult bed bugs. Be sure to keep an eye out for these reddish-brown insects, which often resemble apple seeds.
Small maroon stains on sheets, blankets, and pillows indicate bedbugs that have feasted on human blood. These red-brown stains are left from bed bug excrement.
Be on the lookout for the minuscule white eggs that bed bugs lay. These can be found in bedding and in carpeting.
To prevent bed bugs from leaving with you and infesting a new area, check your luggage and personal items thoroughly for adult bed bugs or their eggs.
When coming home after a long trip, put whatever you can in the wash on a high-heat setting. This will kill any bed bugs that may have hitched a ride on your belongings.
When it comes to completely ridding your home of bed bugs, contacting a pest control expert is always your best option. Once bed bugs have gotten into your home, they are extremely difficult to get rid of on your own, which is why dealing with these bloodsucking pests should be left to the professionals here at Moyer Pest Control. Moyer has extensive experience when it comes to eliminating bed bugs from homes. With our heat treatment plans, we can get rid of your bed bug problems once and for all. If you'd like to know more about the services we offer for residential and commercial areas, give us a call.