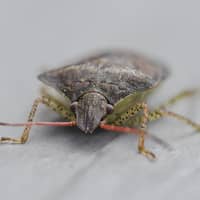 The brown marmorated stink bug, with its shield shape, sticky mandibles, and brown and grey dotted coloring, is a pest most central east coast residents are all too familiar with. Normally an agricultural pest, these nasty, little bugs start pestering homeowners as the temperature gets colder. They crawl on walls, pile on sills, and get under foot. And watch out! If you step on them, the secretion from their abdomen can stain your carpets, and make your house smell like dirty feet. This is definitely a pest you don't need around your home. But don't wait till the end of fall to do something about it. You should start getting ready now.
Begin by checking all your screens. It doesn't take much of a hole or gap for stink bugs to get inside. Take a walk around and see if there are any places that need screens. Sometimes entry points go unnoticed, like: vents, laundry exhaust, and even the chimney. Window grade screens on your chimney will let the smoke out, and keep the stink bugs from crawling in.

Install door sweeps on all your doors. These bugs love to slip under your doors.

Install weather stripping, especially on sliding doors.

Fill in cracks in your foundation.

Fill any rotted wood holes with caulking, until you can have those areas replaced.

Keep your doors closed. Many times, stink bugs get in through a door that was left open too long.
These common-sense preventative measures, combined with one of two effective stink bug treatments from Moyer Indoor | Outdoor, can significantly reduce the number of stink bugs afflicting you this fall. Our expert technicians apply a spray to the exterior of your home, even up high on the roofline, and deter those bugs from looking for any entry points you missed. Our sprays contain micro-encapsulated materials that release over time, for longer effectiveness. And, if you need even more protection, we can install insect light traps in your attic, and do monthly follow up visits. You don't have to live with stink bugs. You can fight back. Call and find out how easy it is.